BAFTA Announces 2011 Film Award Nominees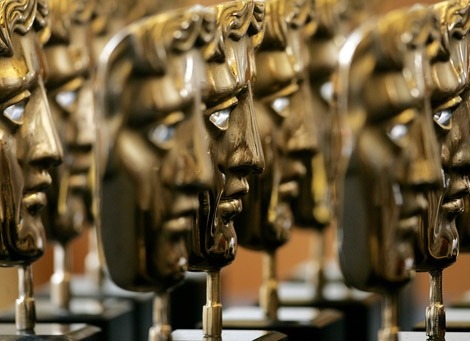 After the sham of (and ridiculous hand-wringing response to) the Golden Globes, there's nothing like a slightly more legitimate awards ceremony to cleanse the palate. The British Academy of Film and Television Arts announced the nominees for the 2011 Orange British Academy Film Awards this morning. Hit the jump for the full list of nominees and some brief thoughts.
There's nothing too controversial on the list, although there are a few surprises. It's great to see some less-praised roles get some loving here, including Noomi Rapace in Girl with Dragon Tattoo, and Pete Postlethwaite in The Town. Jeff Bridges landed a nomination for best actor in True Grit, foreshadowing what may be an Oscar nomination in the same category a few weeks from now. The "Outstanding Debut By a British writer, director, or producer" is full of awesomeness from the likes of Gareth Edwards, Chris Morris, and Banksy (although how is that awards acceptance speech going to happen, assuming Exit Through the Gift Shop wins?). Finally, I'm relieved and glad to see John Powell receive a nomination for his phenomenal work on the score of How to Train Your Dragon. In my opinion, the man deserves the Oscar, but I'm doubtful as to whether he'll even be nominated.
The 2011 BAFTA Film Award nominees are as follows. What are your thoughts?
Best film
Black Swan
True Grit
Inception
The King's Speech
The Social Network
Best director
Darren Aronofsky – Black Swan
David Fincher – The Social Network
Tom Hooper – The King's Speech
Christopher Nolan – Inception
Danny Boyle – 127 Hours
Best actor
Jesse Eisenberg – The Social Network
Colin Firth – The King's Speech
James Franco – 127 Hours
Javier Bardem – Biutiful
Jeff Bridges – True Grit
Best actress
Annette Bening – The Kids Are All Right
Julianne Moore – The Kids Are All Right
Noomi Rapace – The Girl with the Dragon Tattoo
Natalie Portman – Black Swan
Hailee Steinfeld – True Grit
Best supporting actor
Christian Bale – The Fighter
Pete Postlethwaite – The Town
Andrew Garfield – The Social Network
Mark Ruffalo – The Kids Are All Right
Geoffrey Rush – The King's Speech
Best supporting actress
Amy Adams – The Fighter
Helena Bonham Carter – The King's Speech
Barbara Hershey – Black Swan
Lesley Manville – Another Year
Miranda Richardson – Made in Dagenham
Outstanding British film
127 Hours
Another Year
Four Lions
The King's Speech
Made in Dagenham
Outstanding debut by a British writer, director or producer
The Arbor – Clio Bernard (director), Tracy O'Riordan (producer)
Exit Through The Gift Shop – Banksy (director), Jaimie D'Cruz (producer)
Four Lions – Chris Morris (director/writer)
Monster – Gareth Edwards (director/writer)
Best foreign language film
Biutiful – Mexico/Spain
The Secret in Their Eyes – Argentina
The Girl with the Dragon Tattoo – Sweden
I Am Love – Italy
Of Gods and Men – France
Best animated feature filmToy Story 3
How To Train Your Dragon
Despicable Me
Best original screenplay
Black Swan – Mark Heyman, Andres Heinz, John McLaughlin
The Fighter – Scott Silver, Paul Tamasy, Eric Johnson
Inception – Christopher Nolan
The Kids are All Right – Lisa Cholodenko, Stuart Blumberg
The King's Speech – David Seidler
Best adapted screenplay
127 Hours – Danny Boyle, Simon Beaufoy
The Girl with the Dragon Tattoo – Rasmus Heisterberg, Nikolaj Arcel
The Social Network – Aaron Sorkin
Toy Story 3 – Michael Arndt
True Grit – Joel Coen, Ethan Coen
Best original score127 Hours – AR Rahman
Alice in Wonderland – Danny Elfman
How To Train Your Dragon – John Powell
Inception – Hans Zimmer
The King's Speech – Alexandre Desplat
Cinematography127 Hours
Black Swan
Inception
The King's Speech
True Grit
Editing127 Hours
Black Swan
Inception
The King's Speech
The Social Network
Production design
Alice in Wonderland
Black Swan
Inception
The King's Speech
True Grit
Costume designAlice in Wonderland
Black Swan
The King's Speech
Made in Dagenham
True Grit
Sound127 Hours
Black Swan
Inception
The King's Speech
True Grit
Special Visual EffectsAlice in Wonderland
Black Swan
Harry Potter and The Deathly Hallows: Part I
Inception
Toy Story 3
Make-up and hairAlice in Wonderland
Black Swan
Harry Potter and The Deathly Hallows: Part I
The King's Speech
Made in Dagenham
Short animationThe Eagleman Stag
Matter Fisher
Thursday
Short film
Connect
Lin
Rite
Turning
Until The River Runs Red
Rising Star Award (voted for by the public)Gemma Arterton
Andrew Garfield
Tom Hardy
Aaron Johnson
Emma Stone