Meet The Characters Of 'Cars 2'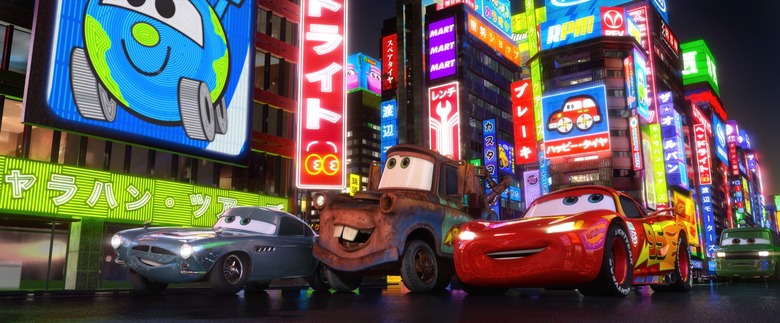 Over the past week, Disney has released a bunch of new images, character banners, 3d turnarounds and character bios from Pixar's upcoming Cars 2. We've collected everything into one post. Click on the photo above to see the computer generated image in super high resolution. Hit the jump to see more images and video from the world of Cars 2.
The photo of Mater and Finn with spy-in-training Holley Shiftwell comes from Australia's Herald Sun (via UpcomingPixar).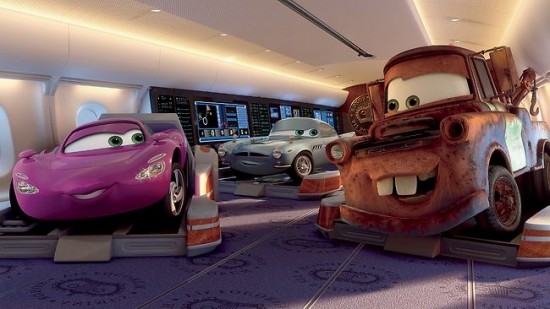 Cars 2 character descriptions provided by Disney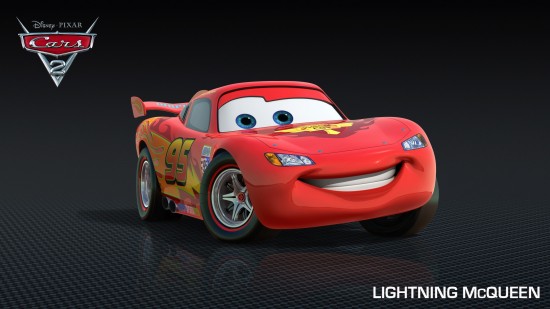 Lightning McQueen (aka Lightning)
Number 95 Lightning McQueen is still a hotshot racecar, but his rookie days are past him. Now a permanent resident of Radiator Springs, Lightning has become a bona fide worldwide celebrity as winner of four Piston Cups.
After his latest win, Lightning returns home to enjoy life in the slow lane for a while with sweetheart Sally, best friend Mater and the rest of his Radiator Springs family. His off-season is unexpectedly cut short when Mater inadvertently prompts Lightning to enter the World Grand Prix, a high profile, three-part exhibition race that will take him around the globe.
With a fresh custom paint job and real, working headlights, Lightning sets off to Japan, Italy and England with Mater in tow for the adventure of a lifetime. But competing against the fastest cars in the world tests more than his racing skills when Lightning realizes his wide-eyed best friend may not be the pit chief nor ambassador he needs to navigate the unfamiliar international terrain.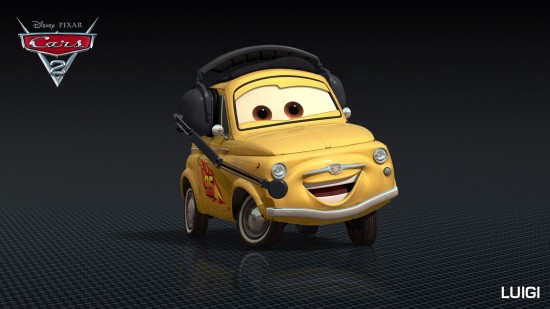 Luigi
Radiator Springs resident Luigi is a big-hearted, gregarious and excitable Italian Fiat 500. A tire virtuoso and owner of Luigi's Casa Della Tires, he and his sidekick Guido join Lightning and Mater as members of Team Lightning McQueen for the World Grand Prix. Luigi is also an aficionado and fanatic for all things Italian, and is particularly enchanted with Ferrari race cars. When the competition takes the team to his hometown of Porto Corsa, Italy, Luigi is over the moon to introduce the Radiator Springs crew to his charming village and the wonderful ways of Italy. His family welcomes the gang from Radiator Springs in a big, passionate Italian way: Amore!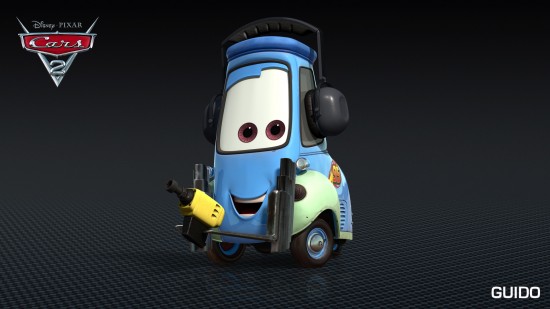 Guido
Guido, the little Italian forklift, is the backbone of Casa Della Tires. He's Luigi's assistant and best friend, and together they are the biggest Ferrari racing fans in Carburetor County. A car of few English words other than "pit stop," Guido is a force to be reckoned with when he's changing tires in the pits during a race. Joining Team Lightning McQueen for the World Grand Prix, Guido will get to show off his turbo-charged, pedal-to-the-metal pit stops on the global stage...and maybe, just maybe, he'll see some Ferraris!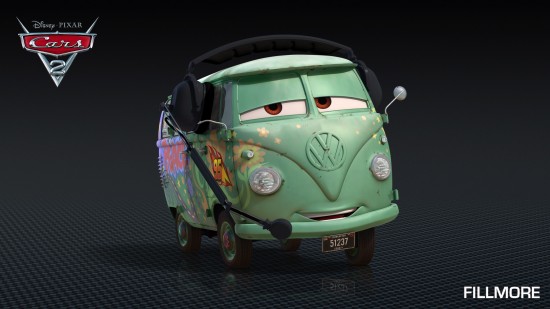 Fillmore
Radiator Springs' resident hippie Fillmore is an easy-going, peace-loving 1960s Volkswagen van. And as his friend and neighbor Sarge likes to say, "once a hippie, always a hippie." At his popular shop Fillmore's Organic Fuel, Fillmore brews his own fuel, which he sells with Bohemian accessories like tie-dyed mud flaps. But when he learns that the World Grand Prix will be run exclusively on the alternative fuel Allinol, Fillmore closes up shop and signs on as the fuel expert for Team Lightning McQueen.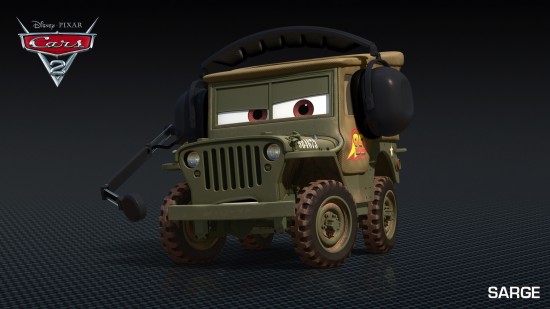 Sarge
Green Army Jeep Sarge is a patriotic veteran who runs the Radiator Springs Army surplus store, Sarge's Surplus Hut. Sarge's no-nonsense attitude often leads to bickering with his hippie friend, neighbor and polar opposite, Fillmore. Despite their differences, the two are almost inseparable – even throughout their world travels. A security specialist with military connections around the globe, Sarge joins Lightning and Mater at the World Grand Prix as a member of Team Lightning McQueen.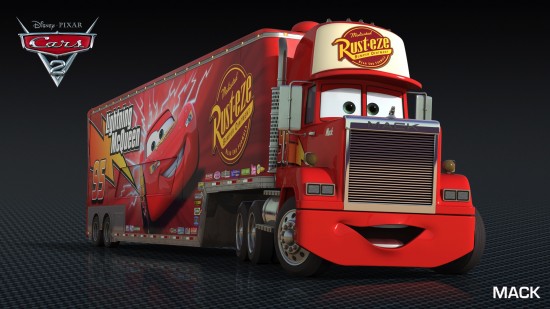 Mack
Mack is Lightning McQueen's trusted long-haul driver, crisscrossing the country from race to race, always with a smile on his grill. After dropping Lightning off in Radiator Springs with his fourth Piston Cup championship trophy, Mack sets off with the rest of the pit crew for a well-deserved vacation. Who knew that Lightning would end up jetting off to a race around the globe in the World Grand Prix?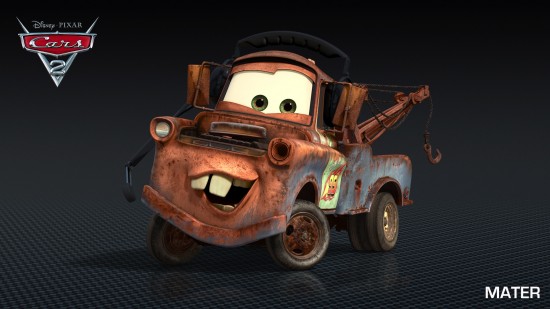 Mater
In the now popular tourist destination of Radiator Springs, the rusty old tow truck Mater has a number of roles, including proprietor of Tow Mater Towing and Salvage, grand storyteller and the heart and soul of the town. But Mater's favorite title is best friend to Lightning McQueen. Mater values each and every dent he's earned on his escapades with Lightning over the years, and anxiously awaits further fun with his friend when Lightning returns with his latest Piston Cup.
Cheerful, honest and loyal to a fault, Mater rushes to his best friend's defense, which ultimately lands the off-duty Lightning in an international racing exhibition: the World Grand Prix. When Lightning invites Mater to come along as a member of his pit crew, Mater leaves Carburetor County for the first time ever.
Not long after their arrival in Tokyo, Mater learns that the world outside of Radiator Springs is decidedly different and its newfangled ways may take some getting used to. But when he's mistaken for an American secret agent, he falls into an intriguing adventure of his own. Caught between supporting his best friend on a globe-trotting racing competition and his new role in international espionage, Mater ends up in an explosive chase through the streets of Tokyo and Europe alongside a team of British spies and international bad guys.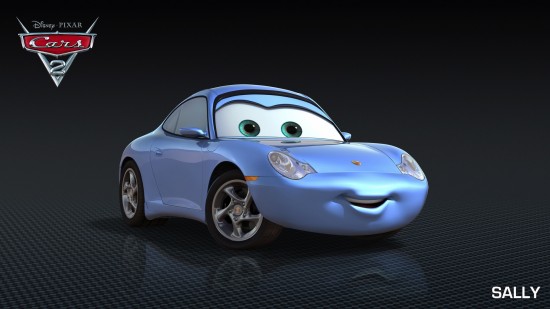 Sally
Sally, a baby blue Porsche 911 Carrera, is the proprietor of Radiator Springs' Cozy Cone and Wheel Wagon Motels and the apple of Lightning McQueen's eye. Longing for Lightning's return from his latest Piston Cup race season, Sally is looking forward to a long drive with "Stickers," as she affectionately calls Lightning.
When Lightning commits to racing in the World Grand Prix the same night of his return, Sally remains steadfastly supportive of her star racecar. She even convinces Lightning to take his best friend Mater along for the ride of a lifetime. Though Sally stays behind in Radiator Springs, even she lights up for the open-wheeled racing cars from Europe – but only Lightning truly makes her motor purr.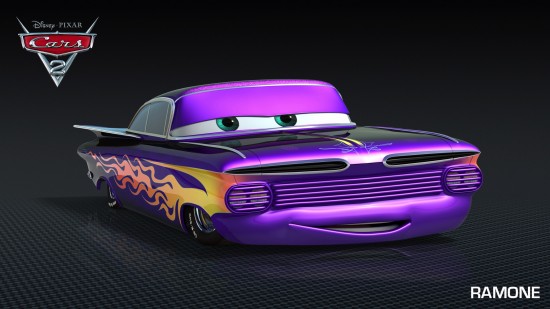 Ramone
Ramone owns and operates Ramone's House of Body Art, Radiator Springs' custom body and paint shop. Ramone is an artist — a true magician with paint and metal. There was a time when his only canvas was himself, so he repainted himself daily. But since Lightning McQueen helped put Radiator Springs back on the map, Ramone has had his share of customers—including the star race car himself. Before heading off to the World Grand Prix, Lightning stops by Ramone's for a new paint job...and Ramone does him up gooood.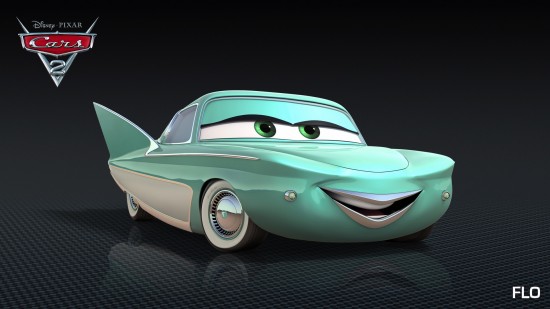 Flo
Flo is a sassy, no-nonsense lady with the biggest heart in Radiator Springs. She runs the local diner, Flo's V-8 Café, the only gas station for miles around, where she still serves the "finest fuel in 50 states." Flo is Ramone's main squeeze. As a touring Motorama girl in the 1950s, Flo was passing through Radiator Springs and when she met Ramone, she was hooked.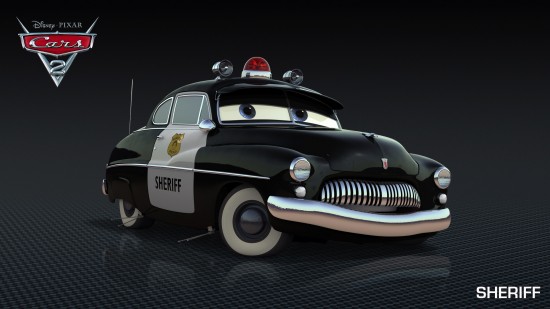 Sheriff
Sheriff is the local law enforcement and the keeper of the peace in Radiator Springs. He takes his job very seriously. Sheriff enjoys telling stories and taking the occasional nap behind the Radiator Springs billboard. That's where he was when Lightning McQueen first zoomed into town years ago, which led to a messy car chase that didn't end well. These days, Sheriff welcomes the hotshot racer Lightning home to Radiator Springs with all four tires.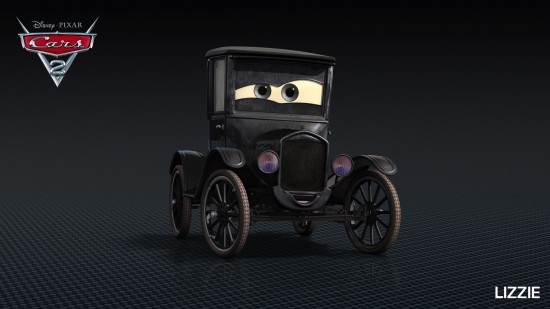 Lizzie
Lizzie is a Radiator Springs original. She's a little old lady, but still an active businesswoman who uses her moxie to sell bumper stickers, mud flaps and other Route 66 memorabilia from her curio shop. She's as feisty as she is brash. Lizzie's unswerving frankness and offbeat comments keep the townsfolk and tourists on their toes, even though she has no idea what she's just said.
CARS 2 (In Disney Digital 3D™ and IMAX® 3D)
DISNEY•PIXAR
Website and Mobile Site: Disney.com/cars
Like us on Facebook: facebook.com/pixarcars
Follow us on Twitter: twitter.com/disneypixar
Genre: Animation/Comedy/Adventure
Rating: TBD
U.S. Release Date: June 24, 2011
Voice Talent: Owen Wilson, Larry the Cable Guy, Michael Caine, Emily Mortimer, Bonnie Hunt, Tony
Shalhoub, Cheech Marin, Jason Isaacs, Joe Mantegna, Peter Jacobson, Thomas
Kretschmann
Director: John Lasseter
Co-Director: Brad Lewis
Producer: Denise Ream
Composer: Michael Giacchino
Star racecar Lightning McQueen (voice of Owen Wilson) and the incomparable tow truck Mater (voice of Larry the Cable Guy) take their friendship to exciting new places in "Cars 2" when they head overseas to compete in the first-ever World Grand Prix to determine the world's fastest car. But the road to the championship is filled with plenty of potholes, detours and hilarious surprises when Mater gets caught up in an intriguing adventure of his own: international espionage. Torn between assisting Lightning McQueen in the high-profile race and towing the line in a top-secret spy mission, Mater's action-packed journey leads him on an explosive chase through the streets of Japan and Europe, trailed by his friends and watched by the whole world. Adding to the fast-paced fun is a colorful new all-car cast that includes secret agents, menacing villains and international racing competitors.
John Lasseter returns to the driver's seat to direct this follow-up to his 2006 Golden Globe®-winning "Cars." "Cars 2" is co-directed by Brad Lewis, producer of the Oscar®-winning film "Ratatouille," and produced by visual effects industry veteran Denise Ream (associate producer, "Up"; visual effects executive producer, "Star Wars: Episode III – Revenge of the Sith"). The film hits the track on June 24, 2011, and will be presented in Disney Digital 3D™ and IMAX® 3D in select theaters.
Notes:
• John Lasseter made his feature film directing debut with "Toy Story" in 1995. He has since directed such Disney•Pixar classics as "A Bug's Life," "Toy Story 2" and "Cars" and served as executive producer of all other Pixar films to date. He is currently the chief creative officer of Walt Disney and Pixar Animation Studios and principal creative advisor of Walt Disney Imagineering.
• "Cars 2," slated for a June 2011 release, is the 12th feature-length animated film from Pixar Animation Studios (its first 11 have earned $6.5 billion at the global box office). Pixar, which has earned 26 Academy Awards® and six Golden Globes®, celebrates its 25th Anniversary in 2011.
• "Cars" originally released on June 9, 2006, and grossed nearly $462 million worldwide. It was nominated for two Oscars® and one Golden Globe®, winning the first ever Golden Globe for Best Animated Feature Film.
When star racecar Lightning McQueen (voice of Owen Wilson) and the incomparable tow truck Mater (voice of Larry the Cable Guy) head overseas to compete in the first-ever World Grand Prix, Mater gets caught up in an intriguing adventure of his own: international espionage.