Two New Images From 'The Hangover Part II' Raise More Questions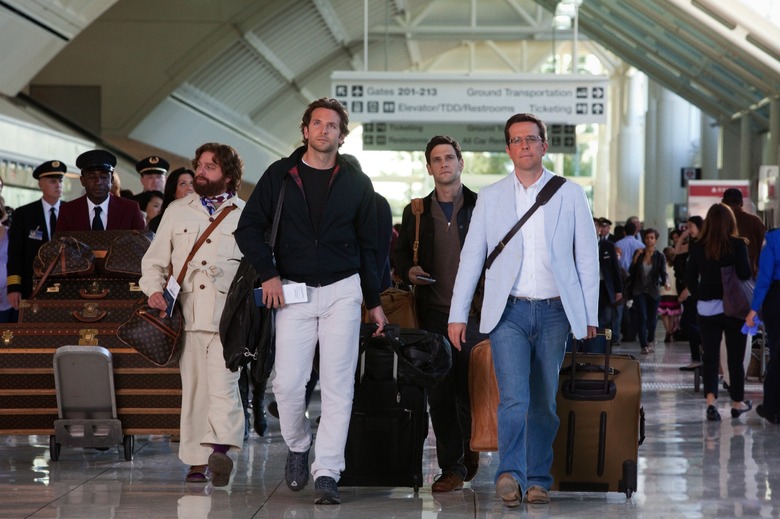 As a rule, I do my best to avoid comedy marketing. Trailers, stills, clip reels, all they do is ruin the best jokes in a movie and make the experience of watching the film less rewarding. With that warning, two new images from the highly-anticipated Todd Phillips sequel The Hangover Part II , have surfaced featuring Bradley Cooper, Ed Helms and Zack Galifianakis in Thailand. At first glance, these photos, which are below the jump, don't look too revealing. Just your basic shots of three guys in some bad situations. But upon closer inspection there are surely things in these images that spoiler-avoiders like myself probably wouldn't want to see. There's nothing major, but the photos are kind of funny which means they ruin jokes. Decide for yourself then hit the jump.
Here's image one, which appeared via Todd Phillips's Facebook, with a heads up from HitFix.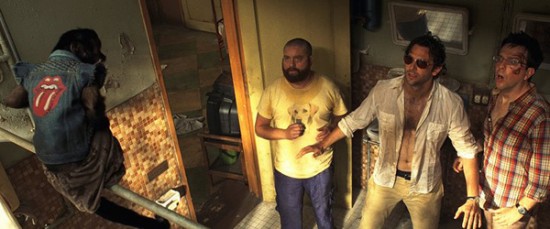 This is most spoiler-filled of the two images. There's a monkey, he's wearing a Rolling Stones jacket, Alan's head is shaved, he's wearing a dog shirt, Stu has a Mike Tyson tattoo, and while we've seen some of these things already, seeing them all together in this obviously Thai setting gives a great sense of what this movie is going to be: Fucking madness.
Photo two, found via The Daily Blam, is way less revealing, but again provides a solid glimpse at the look of the film. Especially when you take both images together.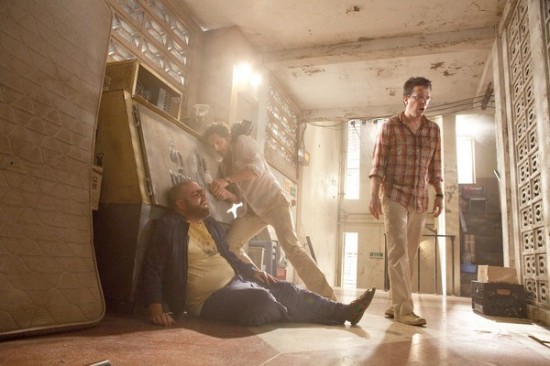 It seems as if Phil is trying to open a soda, while Stu and Alan are dumbfounded and exhausted. Why? And where the hell is Doug when all this is happening? Did they lose him again? I guess we'll have to wait until May 26, or at least the first trailer, to find out.
As previously reported, here's the plot synopsis for The Hangover Part II.
In the follow-up to the record-breaking hit comedy "The Hangover," Phil, Stu, Alan and Doug travel to exotic Thailand for Stu's wedding. After the unforgettable bachelor party in Las Vegas, Stu is taking no chances and has opted for a safe, subdued pre-wedding brunch. However, things don't always go as planned. What happens in Vegas may stay in Vegas, but what happens in Bangkok can't even be imagined.
Do you avoid comedy spoilers like I do or do you try to devour as much information as you can? Any guesses of what's going on in these photos?