New 'Game Of Thrones' Teaser Is All Swords And Shadows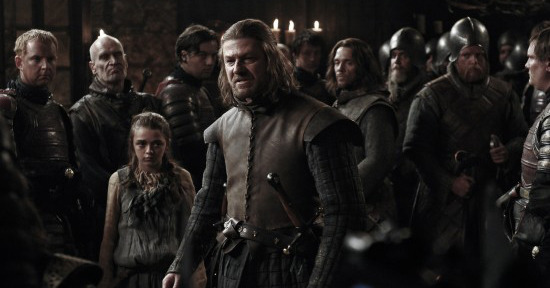 Here's a new teaser for HBO's Game of Thrones, which adapts the first novel in George R.R. Martin's epic fantasy series. Tom McCarthy (The Station Agent, The Visitor) directs the pilot, which leads one to expect something that will be dense with character and dialogue. Indeed, one trailer for the show suggested we'll see exactly that, and this teaser is also pretty dialogue-heavy for something that concentrates more on mood than story. But, as something that concentrates on mood, it also has a lot of furrowed brows and dense, foreboding shadows. Check it out after the break.
Multiple choice time. This teaser looks like:
(A) An ad for Magic: The Gathering: The Fragrance.
(B) A video for a forgotten Savatage song.
(C) The teaser for an awesome fantasy TV series.
(D) All of the above.
Game of Thrones premieres on April 17. David Benioff and Dan Weiss are the lead writers and producers, and the cast includes Sean Bean, Peter Dinklage, Iain Glen, Lena Headey, Richard Madden and Sophie Turner.
Long ago, in a time forgotten, a preternatural event threw the seasons out of balance. In a land where summers can last decades and winters a lifetime, trouble is brewing. The cold is returning, and in the frozen wastes to the north of Winterfell, sinister and supernatural forces are massing beyond the kingdom's protective Wall. At the center of the conflict lie the Starks of Winterfell, a family as harsh and unyielding as the land they were born to. Sweeping from a land of brutal cold to a distant summertime kingdom of epicurean plenty, here is a tale of lords and ladies, soldiers and sorcerers, assassins and bastards, who come together in a time of grim omens. Here an enigmatic band of warriors bear swords of no human metal; a tribe of fierce wildlings carry men off into madness; a cruel young dragon prince barters his sister to win back his throne; and a determined woman undertakes the most treacherous of journeys. Amid plots and counterplots, tragedy and betrayal, victory and terror, the fate of the Starks, their allies, and their enemies hangs perilously in the balance, as each endeavors to win that deadliest of conflicts: the game of thrones.