Kiefer Sutherland's Next Is 10-Part Web Series Called 'The Confession'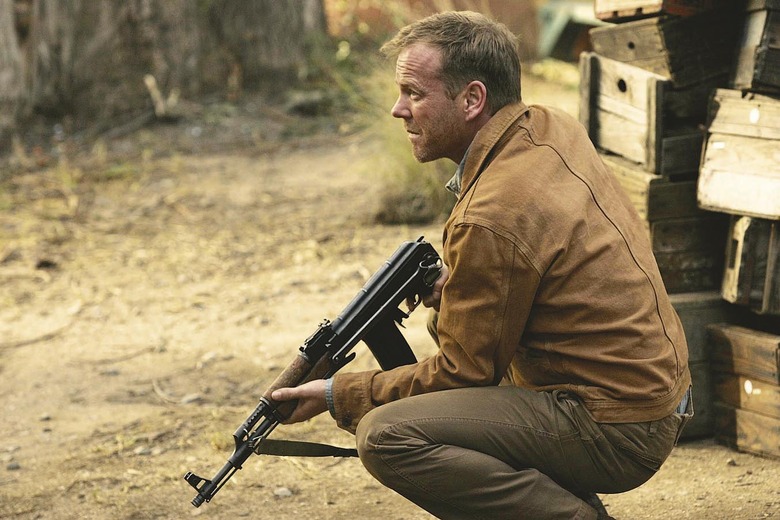 For his 24 encore, Kiefer Sutherland will continue to execute people. Or at least talk about it. The star of the now-canceled Fox action show has already filmed his next project called The Confession. It'll debut exclusively on Hulu in March. Sutherland stars as a hitman who has an intense conversation with a priest, played by John Hurt, about the morality behind murdering people. The pair shot the series – which will run in 10, five minute segments – in New York in December. Read more about it after the jump.
Entertainment Weekly broke the news of the show in their latest issue and you can read more news about the project there.
"There was no network, so it was pretty freeing," Sutherland said to the magazine. Written and directed by Brad Mirman, the idea for the show itself was Sutherland's and it only took nine days to shoot though much of the story is told in flashbacks. Here's what Chris Young, the head of Digital Broadcasting Group, had this to say about the production:
The Confession sets a precedent for what is possible in original webisodic content. Never before has something of this magnitude and motion picture quality come to the third screen. I'm thrilled to be working with such A-list talent and top-tier sponsors to finally capture and crystallize the seismic shift in how content of this caliber is released, distributed and enjoyed by an audience that will rival that of a hit television series.
Once they finished shooting, Sutherland went off to rehearse for a role in That Championship Season on Broadway and confirmed that he has a few TV pitches that are in the works, but nothing is set in stone.
On the more traditional movie side, Sutherland is also scheduled to team up with his Confession partner, Hurt, in Lars Von Trier's Melancholia. That film began shooting over the summer so one can only assume that it's done. Sutherland and Hurt star alongside Kirsten Dunst, Alexander Skarsgård, Charlotte Gainsbourg and Stellan Skarsgård in a that film begins with the end of the world and moves along from there. You know. Nice, happy Von Trier stuff.
As for The Confession, the idea sounds simple, yet highly engaging. Both Sutherland and Hurt are top notch actors and to see them debate the merits of assassination, in a church, for free, online, seems almost too good to be true.
Will you keep an eye out for The Confession? Do you feel that doing a web series, even if it was totally "freeing" creatively, is in anyway a step back for an actor like Sutherland? Or is this just the nature of the game now?