'Sherlock Holmes 2:' New Photo And Details On Action Scenes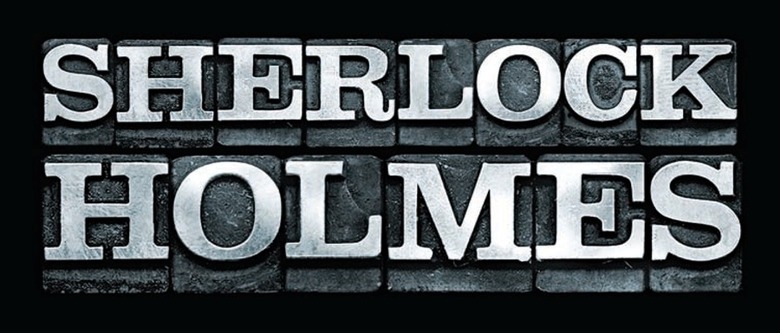 According to Jude Law, who returns as Watson in Guy Ritchie's currently filming Sherlock Holmes 2, one of the most exciting things in the sequel is the "fear level." "We get pretty kicked around," Law said. "Just look at the state of us." You can see the state of Law and his co-star Robert Downey Jr. in the above below, the latest look at the film scheduled for release December 16. Both he and Downey spoke to the Los Angeles Times about the film, which is set one year after the original, and you can read what they had to say, see the photo, and even learn about some of the action beats, after the break.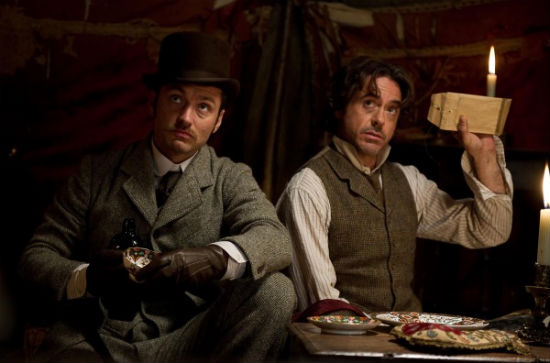 In the Los Angeles Times article, they describe the plot of the film as follows:
Set in 1891 — a year after the last film's events — the sequel shows Holmes continuing his pursuit of Professor Moriarty (played by Jared Harris), who, if the investigator's instincts are correct, might be the world's first supervillain. Watson, meanwhile, is still trying to be a good partner to his love, Mary Morstan (Kelly Reilly), while keeping Sherlock alive.
The piece also details several action scenes which I'd consider minor spoilers. The first features Watson, Holmes and a gypsy woman named Sim running away from gunfire in a train yard. Finding cover, they all fumble for guns, but Sim gets hers out first and blasts the bad guys. Sim, of course, is played by Noomi Rapace, the original Girl With the Dragon Tattoo.
The second scene, which seems like it's just another shot from the same train yard chase, features Holmes and Watson taking cover from behind a crate. Watson then jumps up with an almost Gatling gun and lays waste to everything around them.
"They get their hands on a few things that were a little ahead of their time," said producer Susan Downey, who is also Downey Jr.'s wife.
The star himself had this to say about the difference between the two films:
Unlike last time, where Holmes kept getting Watson into trouble this time Watson is getting Holmes out of trouble, and they're both in deeper trouble than I think the audience could have imagined we could go.... All manner of nastiness has just occurred.
Finally, the article refers to the film as "yet untitled" so chances are Sherlock Holmes 2 isn't going to stick.
What do you think of the new image and information?