'Kaboom' Trailer; Gregg Araki Sure Does Love Thomas Dekker's Eyes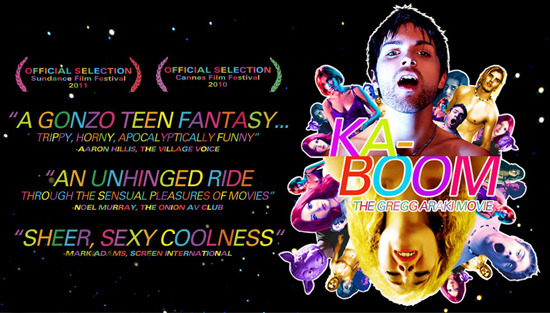 Halfway through the new full trailer for Gregg Araki's new film Kaboom I'd already decided it looks like a sexually liberated, made for TV Donnie Darko when this quote came up: "A gonzo teen fantasy that's tripper, hornier and more apocalyptically funny than 'Donnie Darko'." Oh, the coincidence!
We showed you some NSFW clips from the film when it was at TIFF last year, and a NSFW teaser trailer just a week ago, but this is the full trailer, from Sundance Selects. It lays out the basics of the film pretty well: really pretty college kids (could the trailer love Thomas Dekker's eyes any more?), lots of sex (not as much as in the NSFW teaser) and then some 'freaky,' weird stuff. Is this thing serious? Is it a cartoon that exploits classic stereotypes of hot college kids having sex, or a more ambitious piece of storytelling that subverts those same stereotypes? See if you can figure it out, after the break.
I'm going with 'cartoon,' based on this evidence and the word of mouth from friends who saw the picture at Cannes and TIFF. I've been told that it fails more than it succeeds, but that there's something about the whole ambition of the film that keeps you watching. (Southland Tales comes to mind there, but only in the sense of a skewed ratio between ambition and success.)
See the trailer in HD at Apple. Here's the synopsis. Juno Temple, Haley Bennett, Chris Zylka, Roxane Mesquida, Andy Fischer-Price, James Duval and Kelly Lynch co-star. Sundance Selects releases Kaboom on January 28.
Indie veteran Gregg Araki returns to the spotlight with KABOOM, a hyper-stylized Twin Peaks for the Coachella Generation, featuring a gorgeous, super-hot young cast. The film is a wild, sex-drenched, comical thriller that tells the story of Smith, an ambisexual 18-year-old college freshman who stumbles upon a monstrous conspiracy in a seemingly idyllic Southern California seaside town. KABOOM will make its US premiere at this year's Sundance Film Festival and is writer/director Araki's eighth film there since his breakthrough The Living End, including The Doom Generation to his masterpiece Mysterious Skin.