Johnny Depp Would Do Fifth 'Pirates Of The Caribbean;' Screenwriter Already Hired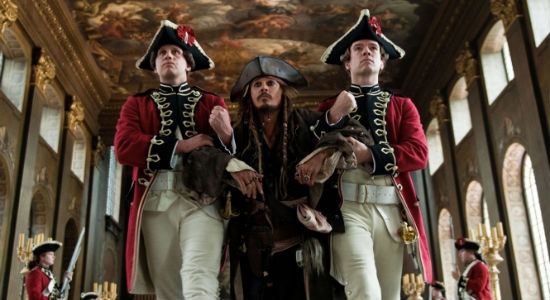 Despite The Tourist performing well-below domestic expectations, no one would argue the drawing power of Johnny Depp. The famously reclusive actor generally stays out of the spotlight long enough to pick and choose whatever projects he wants to do and then he usually does them incredibly well. A few years back, Depp had a reputation for being so choosy with his roles that he probably never would have agreed to a big budget sequel, let alone two of them.
Fast-forward to 2011 and Johnny Depp has his fourth Pirates of the Caribbean film, Pirates of the Caribbean: On Stranger Tides peaking up over the horizon (it opens May 20) and in a new interview he says that he'd even be game for a fifth installment. Just in case, Disney has already rehired Terry Rossio, who co-wrote the first four films, to write a script for a fifth. Read the exact quote and more after the break.
Speaking with Entertainment Weekly for their 2011 preview (the one with the Captain America photo we recently posted) Depp said the following:
As long as we can put all the puzzle pieces together, I would most definitely consider [a fifth Pirates film].
Mere hours after that quote surfaced, Deadline ran a story that Disney had officially signed Terry Rossio, who wrote the previous four films with partner Ted Elliot, to write the fifth movie. He'll be doing it solo this time, but preliminary talks to bring director Rob Marshall back are also taking place and Depp's deal has the structure for the fifth movie. As of now, though, only Rossio is locked. Everyone else is still hard at work on On Stranger Tides.
Directed by Rob Marshall, produced by Jerry Bruckheimer and starring Depp, Penelope Cruz, Geoffrey Rush and Ian McShane, On Stranger Tides follows Jack Sparrow (Depp) and his new love interest, the daughter of the infamous Blackbeard (Cruz and McShane respectively) in a race against Barbossa (Rush) to find the Fountain of Youth.
Being as the film is being produced and distributed by Disney, chances are that our hero Jack Sparrow will reach the Fountain and, if that's the case, maybe he'll become immortal and we will see a new Pirates movie every 3 years for the foreseeable future. And no, I don't actually want to see that happen. In fact, I think the franchise stalled with the complicated second film. Even the trailer for On Stranger Tides didn't quite get those juices flowing like the Hans Zimmer score in the first film could. Still, maybe this film will be more fun, less heady, and make us all a bit more open to the idea of a fifth film.
Did you ever think you'd see the day Johnny Depp would considering playing a character five times? What do you think it is? Does his family love it? The huge paycheck? The adoring fans?