Seth Rogen Unsure If He'll Appear In Judd Apatow's 'Knocked Up' Spin-Off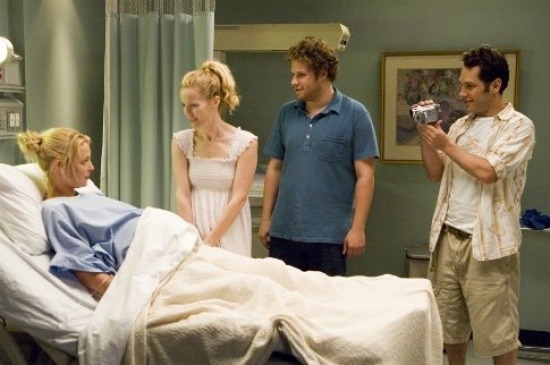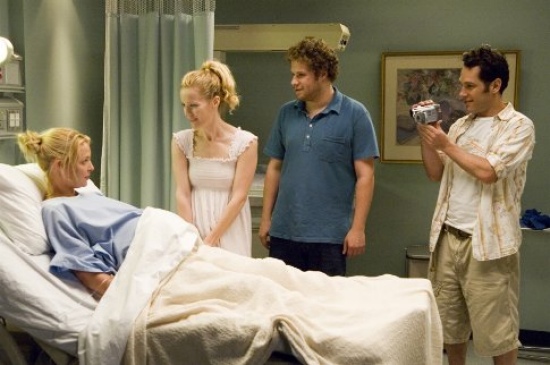 Last week it was revealed that Paul Rudd and Leslie Mann would be reprising roles as husband and wife from Apatow's 2007 hit Knocked Up in Judd Apatow's currently untitled comedy set for release June 1, 2012. There was some confusion about if the movie was a prequel or sequel, and Apatow was quick to clarify that the film would be a stand-alone spin-off (much like the Apatow-produced Get Him To The Greek was a spin-off of Forgetting Sarah Marshall). But will Seth Rogen or Katherine Heigl appear, reprising their roles as Ben Stone and Allison Scott? I mean, they are best friends with Pete and Debbie, right?
E! asked Rogen if he would be appearing in the film while on the press tour for The Green Hornet, and the comic actor would appear in the new film.
"I don't know honestly... Judd mentioned to me somewhat offhandedly a long time ago that that was something he was thinking about, and then I made the Green Hornet and then I just read that the other day also. So I actually haven't talked to him about it at all."
See the video below:
Apatow told HitFix that the movie is "just a story from Pete and Debbie's current life. People really responded to their characters and problems." However, Universal seems to dislike the "spin-off" word, as it might be confusing to some moviegoers. This leads me to believe that the movie will be as stand-alone as possible to avoid possible audience confusion (which may have happened with Greek/Sarah Marshall). And I'm sure we'll see Judd and Leslie's children reprising their role as Peter and Debbie's young offspring — which if true, means the story takes place after the events of Knocked Up. Apatow teases that there are more "fun details" yet to be revealed. I'm sure we'll find out more in the coming months as filming begins this Summer.