Christopher Lee Confirms A Likely Role In 'The Hobbit;' David Tennant Rumors Resurface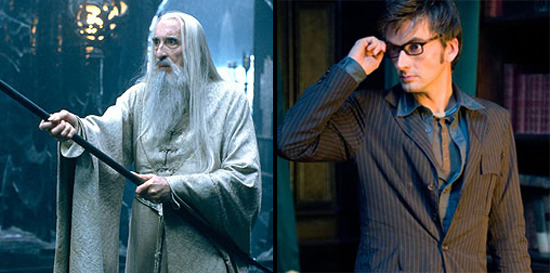 Casting is heating up for The Hobbit. While the majority of the characters unique to the actual novel The Hobbit were cast last year, Peter Jackson has been turning to recruiting some members of his cast from The Lord of the Rings. So yesterday we had confirmation of the return of Andy Serkis and Ian McKellen. Along with that was word that Christopher Lee is likely to return as Saruman. We've got a statement from the actor about that, after the break, and a continuation of the David Tennant casting rumor as well.
The official site of Christopher Lee offers:
Slowly but surely, Peter Jackson has managed to secure the return of the majority of the major stars from The Lord of the Rings franchise for his soon to be shooting prequel, based on J.R.R. Tolkien's The Hobbit.
Sir. Christopher Lee had been in talks to reprise his role as the wizard Saruman and it now looks certain, providing that he is in good health, that he will be appearing in the movie.
The note that he'll likely appear is encouraging, though the caveat that he'll only do so if in the proper health is not. I don't know what health concerns, if any, might be worrying the actor, but hope for the sake of his general well-being that they don't prove to be a factor.
Assuming things go well, how will Saruman fit into The Hobbit? That we don't know, since we know little about what story the creative team has built that goes beyond the basic scope of the novel.
Meanwhile, David Tennant has been rumored for The Hobbit for quite some time, first for the role of Bilbo Baggins (since given to Martin Freeman) and then for other roles like Bard, and now Thranduil the Elvenking. Movieweb carries the latest rumor but doesn't make clear where the information comes from. It seems to leap off in part from the continued low-key reports that Orlando Bloom will return as Legolas; Thranduil is the father of Legolas, so this might just be the result of some speculation by a well-read Tolkien fan. Don't take it seriously at all until there's more official word.