'The Trashmaster' Is A Feature Film Created Entirely From 'Grand Theft Auto IV' Footage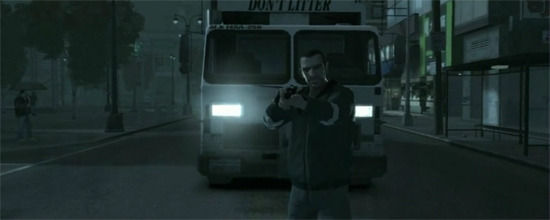 I'm not sure where this fits into the whole 'video games are / aren't art' argument, but I'm looking forward to seeing how people try to use it as evidence for one side or the other. Mathieu Weschler spent two years culling and assembling footage from Grand Theft Auto IV into The Trashmaster, a full-length feature about, yep, a garbage man. But a garbage man who, in slight Travis Bickle fashion, wants to clean up his city. Watch it after the break.
As the rundown on GTA publisher Rockstar's site puts it,
The "trashmaster" divides his time between collecting garbage and cleaning up other forms of trash fouling up New York City's streets: dealers, small-time criminals... When the dancers in his favourite strip club are mysteriously killed, the trashmaster finds himself hot on the trail of a particularly twisted serial killer.
I'm of two minds about this. One is that this is obviously an impressive piece of work, particularly from an editing perspective. Partway through watching it, I'm more impressed by the fact that it exists than by the film as a whole. But I'm not done yet, so that's not criticism — I don't know how this thing ends. The voice acting might be a barrier to entry for some people, especially since the script seems like it is the result of a rough French to English translation.
And then I think: two years! That's a hell of a long time. Without knowing how many hours really went into making The Trashmaster happen, I wonder how things might have gone had Mathieu Weschler just picked up a camera and shot a regular old feature. That's the thing about fan films and machinima. They can be impressive, but are also so intrinsically tied to the original work that I don't know why people with the willpower to see a massive project through don't just make their own worlds.
Then again, something like The Trashmaster is a great way to prove your editing and storytelling skills without risking anything but time. If that was the goal, then mission accomplished. Check it out and tell us what you think.
[YourMachinima via io9]