Freddie Mercury Biopic Starring Sacha Baron Cohen Will Shoot This Year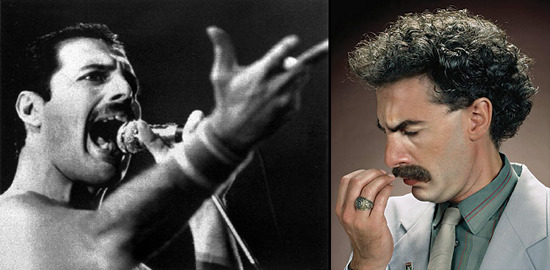 Last year there was the announcement that a Queen/Freddie Mercury movie was in development with Peter Morgan set to write and Sacha Baron Cohen signed to play Freddie Mercury. The casting sounded so potentially perfect that I figured the movie would end up dying on the vine, as so many biopics do. But that's not how this one is going. According to the band, the film is scripted and set to shoot later this year for a 2012 release.
Queen guitarist Brian May updated Queen Online [via Collider]:
Work is now fully under way for the much-vaunted feature film on the life of Freddie. Peter Morgan has delivered a first draft of the movie, which everyone is very excited about, and Sacha Baron Cohen is chomping at the bit to get into the role, in a way which certainly would delight Freddie ! The whole team now working on preparing for a shoot later this year, and a release in the late Autumn of 2012. We are also laying the foundations for WWRY THE MOVIE, and again, we already have a great script for it from Ben.
That last line is about the parallel development of a film based on We Will Rock You, the 'jukebox musical' based around the band's songs. The 'Ben' mentioned is likely Ben Elton, the same man behind the stage musical. So good news on all fronts for Queen fans, as the band is intricately involved in two potential films about or related to the band, each with a reliable creative backbone. Personally, I love the idea of Sacha Baron Cohen playing Mercury, and can't wait to see how that turns out. (In the meantime we'll see the actor in Martin Scorsese's Hugo Cabret.)