Sony Pictures Classics Grabs Woody Allen's 'Midnight In Paris,' Eying Morgan Spurlock's 'The Greatest Movie Ever Sold'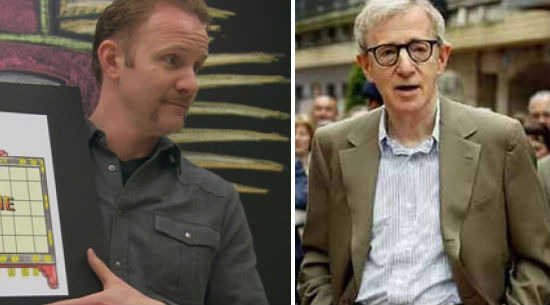 Woody Allen is known for his love affairs and he seems to be developing one with Sony Pictures Classics. The art-house distributor has acquired the North American rights to Allen's latest film, Midnight In Paris, which stars Owen Wilson, Rachel McAdams, Kathy Bates, Michael Sheen, Adrien Brody and Alison Pill among others. SPC has distributed four Allen films total, including the last three in a row: Whatever Works, You Will Meet A Tall Dark Stranger and now Midnight In Paris. They also distributed Sweet and Lowdown in 1999.
Another film that might find itself with a blue SPC card in front of it is Morgan Spurlock's documentary The Greatest Story Ever Sold, which is set to premiere at Sundance later this month. According to The Hollywood Reporter, the company is "actively pursing" the rights to the film. Read more about both films after the jump.
Midnight in Paris sounds very much in line with the Woody Allen oeuvre. This is the plot description from the IMDB:
A romantic comedy about a family traveling to the French capital for business. The party includes a young engaged couple forced to confront the illusion that a life different from their own is better.
No release date is set, but The Playlist points out that last year SPC premiered You Will Meet A Tall Dark Stranger at Cannes before releasing it in the fall so that could be the plan again.
As for Spurlock's documentary, the premise is genius. Here's the description from the Sundance website:
We live in an age where it's tough even to walk down the street without someone trying to sell you something. It's at the point where practically the entire American experience is brought to us by some corporation. Utilizing cutting-edge tools of comic exploration and total self-exploitation, Spurlock dissects the world of advertising and marketing by using his personal integrity as currency to sell out to the highest bidder. Scathingly funny, subversive, and deceptively smart, The Greatest Movie Ever Sold shines the definitive light on our branded future as Spurlock attempts to create the "Iron Man of documentaries," the first ever "docbuster"! He may very well have succeeded.
The film was financed "entirely by product placement, marketing, and advertising" and it certainly sounds like a movie with box office potential. Spurlock is also a well-known name so chances are this will be one of the first films to sell either at, or before, Sundance, and Sony Pictures Classics seems to have the inside track, according to the Hollywood Reporter.
Are you interested in seeing either of these films? How do you feel about Sony Pictures Classics potentially distributing both?