This Week In DVD & Blu-Ray: The Social Network, Piranha, And More
We may receive a commission on purchases made from links.
This Week in DVD & Blu-ray is a column that compiles all the latest info regarding new DVD and Blu-ray releases, sales, and exclusive deals from stores including Target, Best Buy and Fry's.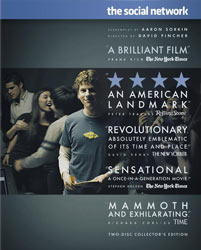 THE SOCIAL NETWORK
Each year, there are always a select number of standout films that astound through their remarkable craftsmanship. More rare, meanwhile, are the films that achieve this while also providing prescient insight into our evolving culture. The Social Network is the latter. While film may not have seemed like the medium best suited to communicate how the internet has altered the world, the dynamite pairing of director David Fincher and writer Aaron Sorkin transforms the topic into a fiercely entertaining, cinematically rich experience. Never before has the use of computers in film been so thrilling without needing to abandon total authenticity. And for all its rhythmically-charged dialogue sparring sessions set to Trent Reznor's electric score, the film never loses sight of the big picture, chronicling a change not just in the way we conduct business, but in the way we build relationships and interact with one another. Delving deeper into the themes of the film requires more than a brief paragraph will allow—hence my review of the film, in which I awarded the film a 10/10 rating—so for the sake of brevity, I'll be blunt: The Social Network is a fucking masterpiece. For a movie that once so casually dismissed as "the Facebook movie"—and I'm as guilty of that as anyone—it's amazing to see what a powerhouse work of cinema ultimately resulted. My #1 movie of 2010.
Available on Blu-ray? Yes.
Notable Extras: DVD – A commentary with director David Fincher, and a second commentary with Writer Aaron Sorkin & The Cast. Blu-ray – Includes everything on the DVD, as well as the commentaries, along with a feature length documentary ("How Did They Ever Make a Movie of Facebook?"), featurettes ("Angus Wall, Kirk Baxter and Ren Klyce on Post", "Trent Reznor, Atticus Ross and David Fincher on the Score", "In the Hall of the Mountain King: Reznor's First Draft", "Swarmatron", "Jeff Cronenweth and David Fincher on the Visuals"), and a Ruby Skye VIP Room: Multi-Angle Scene Breakdown feature.
EXCLUSIVE DEAL:
What? Blu-ray includes $5 Gift Card.
Where? Fry's.
PIRANHA
Piranha is a tour de force of blood and boobs and giant man-eating fish. In its own trashy way, it's actually kind of brilliant. Where other filmmakers tend to treat "knowingly bad" movies as an excuse to be as half-assed in their execution as possible, director Alexandre Aja has no such reservations, creating a lovingly crafted tribute to 'B' '70s exploitation that finds a perfect balance of self-seriousness and cheeky camp. Yes, like most monster movies, it's silly and stupid and formulaic as all hell, but that can be part of the fun, and Piranha knows this. This is how to do schlock right: gleefully perverse violence, deceptively clever gags, and a surreal—nay, magical—blend of goofy special FX and horrific gore. Plus, unlike most of its competition, it refrains from letting its overt self-awareness kill the joke. For my money, it's easily one of the most fun movies of the past year.
Available on Blu-ray? Yes.
Notable Extras: DVD – A filmmaker commentary, and 5 behind-the-scenes featurettes. Blu-ray – Includes everything on the DVD, as well as deleted scenes with optional commentary, deleted storyboard sequences, 5 additional behind-the-scenes featurettes, the Piranha 3D trailer, and TV Spots.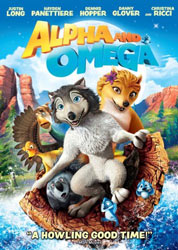 ALPHA AND OMEGA
What the shit is this and why was it released in theaters?
Available on Blu-ray? Yes.
Notable Extras: DVD & Blu-ray – A deleted scene, 4 featurettes ("Wolves in the Wild", "The Alpha of Animation", "Voicing the Wolves", "From Alpha to Omega"), a Log Sliding interactive game, a Are You and Alpha or an Omega personality test, and a Animal Fun Facts Trivia Challenge.
Other noteworthy DVD (and Blu-ray) releases this week...
Louis C.K.: Hilarious – HeartBreaker – The Freebie – Alamar – Skins (Vol. 4)
Noteworthy Blu-ray-specific releases this week...
Once Upon a Time in America – Dances with Wolves (20th Anniversary Edition) – Raging Bull (30th Anniversary Edition) – Army of Shadows (Criterion Collection) – Robinson Crusoe on Mars (Criterion Collection) – The Endless Summer

NOTES: Some deals may vary by store. Some deals may be in-store only. All deals are for DVDs unless otherwise noted.

$19.99 – Community (Season 1), Fringe (Season 2), V (Season 1), South Park (Season 12), Smallville (Season 9), The Big Bang Theory (Season 3)

$7.99 – 3:10 to Yuma, American Psycho, Dirty Dancing, The Forbidden Kingdom, Highlander, Highlander 2, Lord of War, Rambo, T2: Skynet Edition
$8.99 – Bad Boys, Black Dynamite, Black Hawk Down, District 9, Resident Evil: Degeneration, Resident Evil: Extinction