'J. Edgar' Update: Ed Westwick In, Charlize Theron Out, Possibly Moving To 'Alien Prequel?'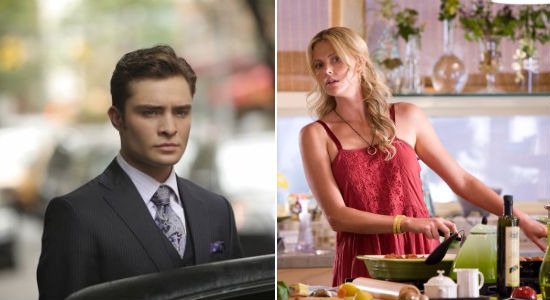 As the saying goes, "when one window closes, another one opens" and such is this case with both Clint Eastwood's new film J. Edgar and actress Charlize Theron. Reports were that Theron was a basically lock to star as Hoover's (Leonardo DiCaprio) longtime assistant Helen Gandy but, apparently, her agents jumped the gun and she will not be taking the role. She's as good as signed up to star in Snow White and the Huntsman and with this change of events is now a major target for Ridley Scott and his Alien prequel. As for the pivotal role of Gandy, Eastwood is now said to be looking at either Naomi Watts or Amy Adams.
But as the Oscar-winning director loses one actor, he gains another. Gossip Girl's Ed Westwick has signed to play a "major supporting role" in the film as an FBI agent who is tasked with writing Hoover's memoir. Read more about all of this after the jump.
According to Vulture, the news of Theron playing Helen Gandy in J. Edgar was such a major misunderstanding, the actress actually had to personally apologize to Eastwood for the confusion.
With Theron leaving that film though, it opens a door for 20th Century Fox and Ridley Scott. The Vulture story says that the director is adamant on casting Noomi Rapace as the lead character in the Alien prequel and also wants Michelle Yeoh for an older, but also significant, crew member name Vickers. It seems if Scott wants to cast the little known Rapace in this big budget tent pole, he's going to have to compromise and cast a bigger star in the Vickers role. Fox wants Theron. They're even beefing up the role to make it more appealing to her or someone of her stature. She's seeing the Damon Lindelof script this week. Lucky.
Back to J. Edgar. Westwick's casting in this role illuminates even more of the subject matter in the film. The casting of Damon Herriman last month already seemed to give us an idea of what Dustin Lance Black's script specifically entails and now Westwick's role, which is described as follows by Deadline, does the same.
A clean cut operative with writing skill. Once Hoover discovers he can write, he conscripts Agent Smith to write Hoover's biography, until Smith gets a little too close to the truth.
One assumes that means he learns about Hoover's secret homosexual escapades with his friend played by Armie Hammer.
The intrigue never stops. Do you think Westwick is a good fit for J. Edgar? What about Theron leaving the project potentially for the Alien prequel?