Andy Serkis Is Officially Returning For 'The Hobbit' [Update: Ian McKellen, Too]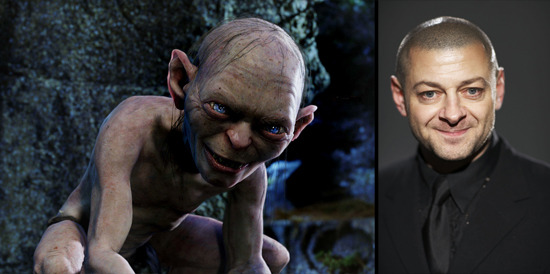 Peter Jackson is slowly gathering Lord of the Rings veterans for The Hobbit. First there were Cate Blanchett and then Elijah Wood. Now we know that Andy Serkis will definitely be back in a mo-cap suit to reprise the role of Gollum.
Update: And so will Ian McKellan. More after the break.
Deadline reports that a deal is locked for Andy Serkis, and says that sources say Ian McKellen is working on his deal to return, Christopher Lee is in talks to play Saruman once more, and Ian Holm is likely to return as the older version of Bilbo Baggins, who will be played in most of The Hobbit films by Martin Freeman. (Edit: Just after we published this story, THR announced that the deal for Ian McKellen was done, so he's locked.)
Mr. Serkis, of course, will once again play Gollum, the man who was twisted into a creature by years of influence from the One Ring. We saw brief flashbacks of the original encounter between Bilbo and Gollum in Peter Jackson's original Tolkien films. (One wonders if, after the Hobbit films are out, the relevant flashbacks in The Lord of the Rings will be replaced with footage from the newer films.)
These actors will join the large cast already assembled:
Richard Armitage (MI-5, Captain America) as Thorin Oakenshield, leader of the Dwarves, whose grandfather ruled the Lonely Mountain settlement destroyed by Smaug.
Aidan Turner (Being Human) and Rob Kazinsky (EastEnders) as Kili and Fili, nephews of Thorin.
Graham McTavish (Secretariat) as Dwalin, blue-bearded, first to arrive at the home of Bilbo Baggins.
John Callen as Oin, skillful fire-maker. Brother of Gloin.
Stephen Hunter (All Saints) as Bombur, the fat, sleepy and slow member of Thorin's company.
Mark Hadlow (King Kong) as Dori, strongest of the Dwarves, who carries Bilbo on his back at one point.
Peter Hambleton (The Strip) as Gloin, brother of Oin, initially suspicious of Bilbo's worth, but eventually convinced. Father of Gimli from The Lord of the Rings.
Ken Stott (Charlie Wilson's War) is the Dwarf Lord Balin
Sylvester McCoy (Doctor Who) is the wizard Radagast the Brown
Mikael Persbrandt (Day and Night) is Beorn, an enormous shape-shifter who can take the form of a bear
Jed Brophy (The Lord of the Rings) is the dwarf Nori
William Kircher is the dwarf Bifur