Watch The Trailer For 'Maska,' In Which The Brothers Quay Adapt Stanislaw Lem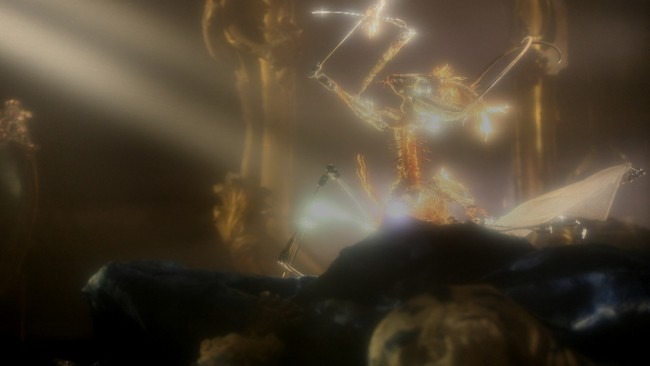 I didn't think there was much that could make me more excited for a new short film by Stephen and Timothy Quay (aka The Brothers Quay). But then I saw this trailer for Maska, and discovered that the film is not only a new animated short from the brothers, but seemingly one of their most colorful pieces of work, and an adaptation of a Stanislaw Lem story to boot. Check it out after the break.
Here's a brief synopsis of the film, which is based on Lem's story The Mask, commonly found in the compilation Mortal Engines:
"Maska" ("Mask") is the latest animated film of Quay brothers, directors and puppet animators, with the music composed by Krzysztof Penderecki. The screenplay is the adaptation of Stanis?aw Lem's novel of the same title. The action of "Maska" is set in a technologically developed but, at the same time, feudal world. Beautiful Duenna was created in order to carry out certain mission. However, she will be forced to choose between accomplishing the task she was created for and love.
Another short recap I found of the story describes it as being about "a beautiful young robot, discovering who and what she is." And this trailer! Man, it's weird, but seriously beautiful, too. Very much in keeping with the overall style of their short films. But there's a bit at the end that's almost more overt horror than most of their work. I can't wait to see the short.
The film actually premiered last year, but will do some festival rounds in 2011 as well, and hopefully hit DVD or a high-resolution presentation on the web. If you get a chance to see this projected, by all means do. Every time I've been lucky enough to see the brothers' work on the screen, it has been a memorable experience.
And, yes, for those keeping track, this means we might see two new Stanislaw Lem adaptations in 2011. (The other being The Congress, from Waltz With Bashir director Ari Folman.) [Twitch]