David Duchovny And Vera Farmiga Cast In 'Goats'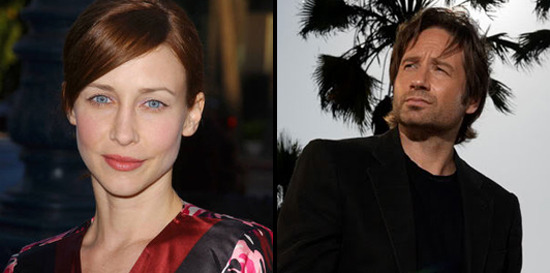 Last year, we brought you a small casting report on an indie called Goats, when Ty Burrell joined the cast. Now, eight months later, the film still hasn't shot, but a few more significant names have been added. David Duchovny and Vera Farmiga have signed on, and the film will shoot in February.
Variety reports those two additions, as well as Keri Russell, Minnie Driver, Will Arnett and Graham Phillips. There's no mention of Angelica Huston, however, who was reportedly cast last year. But casting for the film seems like it has been a long process — when we ran that casting break last May, several of the names that are now formally cast were mentioned, too.
The film is an adaptation of the coming of age story by Mark Jude Poirier, to be directed by first-timer Christopher Neil. (Who is also a nephew of Francis Ford Coppola, and, according to a press release, "served as dialogue director and acting coach on films such as Hesher, Somewhere and Star Wars Episode III: Revenge of the Sith. Might not want to mention Sith and 'acting coach' in the same sentence.)
Here's a rundown of the book, with cast names added:
Fourteen-year-old Ellis (Graham Phillips) is getting ready to leave the Southwest for a boarding school in the East that was previously attended by his father (Ty Burrell). This means leaving behind his mother (Vera Farmiga) and the only real father he has ever known, Goat Man (David Duchovny). Goat Man has done more for Ellis than giving him his first bong hit. He has maintained a home on Ellis's mom's property rent-free since Ellis was a child, taking care of small tasks and raising a herd of goats — all the while teaching Ellis the meaning of stability, caretaking, and commitment.
At boarding school, making the grade while staying (mostly) high, Ellis finds Goat Man's influence thrown into stark relief. And when a skeptical Ellis returns home for spring break, he and Goat Man are forced to reevaluate a relationship they thought was the only thing that would never change in their crazy lives.