A 'Wicked' Adaptation Is Finally Happening...As A TV Miniseries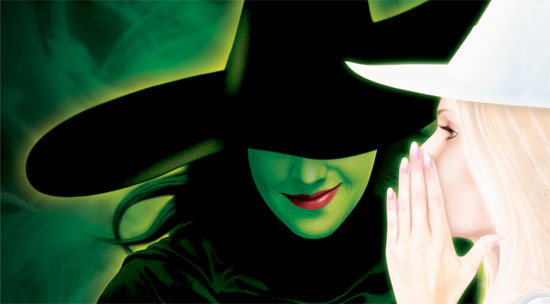 Every time we run a story about one of the Wizard of Oz films that are in development, the same question comes up: where's Wicked? The Gregory Maguire novel Wicked: The Life and Times of the Wicked Witch of the West told the story of Oz from the perspective of the witch of the title, then spawned a tremendously successful stage musical, and there have been rumors of a film for several years.
But this may not be quite what you're expecting. This version of Wicked, developed by Salma Hayek's company Ventanarosa Productions, is based on the novel, rather than the musical, and will see life as an ABC miniseries.
Variety says Erik Jendreson (Band of Brothers, Otis, upcoming film The Big Bang) is scripting, with an eye toward an eight-hour miniseries. (The type of thing, it's worth seeing, that we don't often see any more from the major networks.)
No word on casting yet; at this point Salma Hayek is producing only, though she could end up with a role as things move forward. This isn't a complete surprise, as Gregory Maguire said in 2009 that he'd sold the rights to ABC. Specifically,
Universal plans to film Wicked the Musical for a 2014 release, but the timing is very much in the air. I also sold the rights to ABC TV to make a non-musical television version that will not be based on Winnie Holtzman's script.
Meanwhile, what about the big-screen version of Wicked, which Universal has been developing? Directors like Rob Marshall, James Mangold and Ryan Murphy have reportedly been in talks to take it on, but there's been no public movement in months. That film would be based on the musical by producer Marc Platt, writer Winnie Holzman, and songwriter Stephen Schwartz. If you're more a fan of the musical than the book, that's the one to wait for.
Born with green skin and huge teeth, like a dragon, the free-spirited Elphaba grows up to be an anti-totalitarian agitator, an animal-rights activist, a nun, then a nurse who tends the dying and, ultimately, the headstrong Wicked Witch of the West in the land of Oz. Maguire's strange and imaginative postmodernist fable uses L. Frank Baum's Wonderful Wizard of Oz as a springboard to create a tense realm inhabited by humans, talking animals (a rhino librarian, a goat physician), Munchkinlanders, dwarves and various tribes. The Wizard of Oz, emperor of this dystopian dictatorship, promotes Industrial Modern architecture and restricts animals' right to freedom of travel; his holy book is an ancient manuscript of magic that was clairvoyantly located by Madam Blavatsky 40 years earlier. Much of the narrative concerns Elphaba's troubled youth (she is raised by a giddy alcoholic mother and a hermitlike minister father who transmits to her his habits of loathing and self-hatred) and with her student years.