Bridgit Mendler Leads English Voice Cast Of Studio Ghibli's 'Arrietty The Borrower'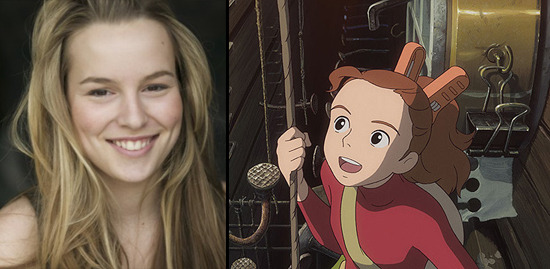 All animation is essentially dubbed when you get right down to it, but there's still something valuable about seeing animated pictures with their original voice track intact — the timing and tone of that original dialogue is important. But Studio Ghibli's films have earned a spot as some of the few animated pictures where I've been surprised to enjoy the English-language cast, to the point where I actually anticipate news about the talent used to make the new dubs.
So here's your first notice about the localized voice cast for Studio Ghibli's new Arrietty the Borrower: the young Brigit Mendler is voicing Arrietty for the North American release.
Producer Frank Marshall said via tweet last night, "Full day of recording with the very talented Bridgit Mendler, doing the lead role in the US version of Studio Ghibli's ARRIETTY THE BORROWER." The actress has been in the series Wizards of Waverly Place and Good Luck Charlie, and voiced a character in the second Alvin and the Chipmunks film.
No word on the rest of the new cast for the film. As has been the case with Disney's releases of Ghibli films in the past, some audiences may be able to see a subtitled print of the film rather than the dub, but that isn't confirmed at this point.
The film, directed by Hiromasa Yonebayashi, with supervision by Hayao Miyazaki, was released in Japan on July 17, 2010. It updates Mary Norton's 1952 novel The Borrowers, placing the action in a modern Tokyo suburb.
Here's the synopsis, with the Japanese fansubbed trailer following:
14-year-old Arrietty and the rest of the Clock family live in peaceful anonymity as they make their own home from items "borrowed" from the house's human inhabitants. However, life changes for the Clocks when a human boy discovers Arrietty.