Judd Apatow Confirms New Film Will Not Be A 'Knocked Up' Sequel Or Prequel, But A Spin-Off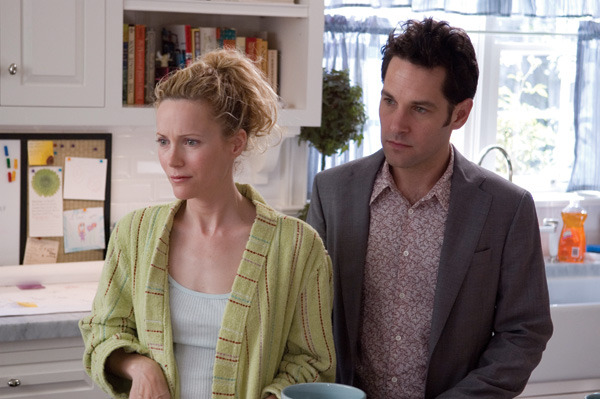 Last night it was revealed that Paul Rudd and Leslie Mann would reunite with Judd Apatow in the comedy director's currently untitled comedy set for release June 1, 2012. Not a huge surprise considering that Mann has appeared in every single one of her husband's films, and Rudd had only missed one (Funny People). But we weren't expecting Mann and Rudd to be reprising roles as husband and wife from Apatow's 2007 hit Knocked Up.
When the news hit the wires, some movie news websites speculated that the film would be a sequel or prequel to the 2007 film. We called it a spin-off, but it seems like Universal doesn't even want to call it that — which is kind of confusing considering Rudd and Mann are playing the same characters. Now we have official clarification from Judd Apatow...
HitFix asked Apatow if the new film would be a sequel or prequel to Knocked Up, and the director confirmed that it will be "neither."
"It is just a story from Pete and Debbie's current life. People really responded to their characters and problems.  I felt like there was a lot of ground I could explore with them."
You can read the entirety of his comments on that site.
So that confirms that the film is a stand-alone spin-off, much in the same way that the Apatow-produced Get Him To The Greek was a spin-off of Forgetting Sarah Marshall. In that case it was a bit more confusing as Russell Brand reprised his role as British rocker Aldous Snow (with Kristen Bell providing a cameo reprisal as Sarah Marshall). However, Jonah Hill played entirely different characters in both movies. While Greek grossed over $88 million worldwide, I think Universal believes the film would have done better without the sequel confusion. Which explains why they are trying to stress that Apatow's new film is not connected to Knocked Up.  I wouldn't expect to Seth Rogen or Katherine Heigl make  appearances, reprising their roles as Ben Stone and Allison Scott, but it's still clearly a spin-off. In the same way that Fraser was a spin-off of Cheers or Daria was a spin-off of Beavis and Butt-head.
And I'm sure we'll see Judd and Leslie's children reprising their role as Peter and Debbie's young offspring — which if true, means the story takes place after the events of Knocked Up. Apatow teases that there are more "fun details" yet to be revealed. I'm sure we'll find out more in the coming months as filming begins this Summer.