Is Judd Apatow's Next Movie A 'Knocked Up' Spin-Off? Paul Rudd And Leslie Mann To Reprise Roles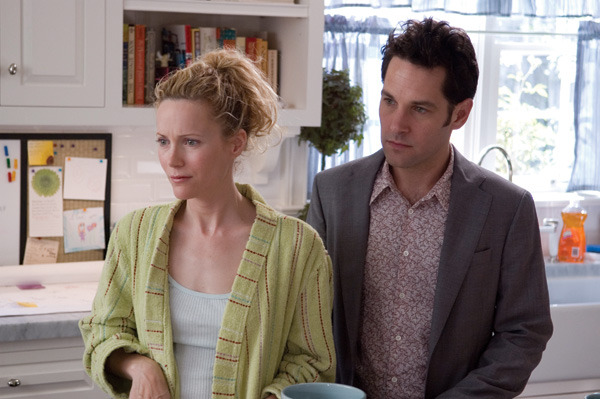 It seemed like a pretty good bet that Paul Rudd and Leslie Mann would appear in Judd Apatow's currently untitled comedy set for release June 1, 2012. After all Mann, his wife, has been in every single movie Apatow has directed and Rudd has only missed one, Funny People. What no one could have seen coming, though, is that they'll be reprising their roles as husband and wife from Apatow's 2007 hit Knocked Up and according to Variety, that's exactly what they'll be doing. But no, it is not officially a spin-off, says Universal. It's reportedly a new story featuring the same characters. Think Get Him To The Greek and Forgetting Sarah Marshall. Read more after the jump.
In Knocked Up, Rudd and Mann played Pete and Debbie, a seemingly perfect married couple. Debbie's sister Alison, played by Katherine Heigl, gets pregnant thanks to a slacker named Ben (Seth Rogen) and the two couples develop a bunch of interesting relationships involving baby shopping, Vegas, Cirque du Soleil, fantasy baseball and Spider-Man 3.
While Pete and Debbie will return for the untitled 2012 film, it's unclear if Heigl and Rogen will reprise their roles or just how prominent Rudd and Mann's roles are going to be.
The new film, written and directed by Apatow – his first since 2009's Funny People – will shoot this summer with an eye on the aforementioned June 1, 2012 release date announced by Universal.
Rudd and Mann are two of the most underrated comedic actors working today (well, Rudd is quickly become "rated" if that's a term, but he's certainly not "overrated") and the pair had awesome chemistry in Knocked Up. I would venture to guess the fact that their kids in the movie were played by Apatow and Mann's real life kids might have something to do with them appearing in this movie again. You know Papa Apatow couldn't say "No" if his daughters requested their parents once again be played by real life mommy and Uncle Paul.
Still, while the word from Universal is that this film has nothing to do with Knocked Up, it features characters from Knocked Up. Doesn't that, by nature, make it a spin-off? I guess we're going to have to wait and see. And no matter what you tell me, I still kind of feel like Get Him To The Greek is a Sarah Marshall spin-off, even if Jonah Hill played two different characters.
Do you think Rudd and Mann are going to play a big part in the film or will it just be a small cameo? And what's the latest on Apatow's Pee Wee Herman movie? Give us the dirt, Judd!
Source: Variety