Andrew Garfield Talks About First Two Weeks Of 'Spider-Man' Filming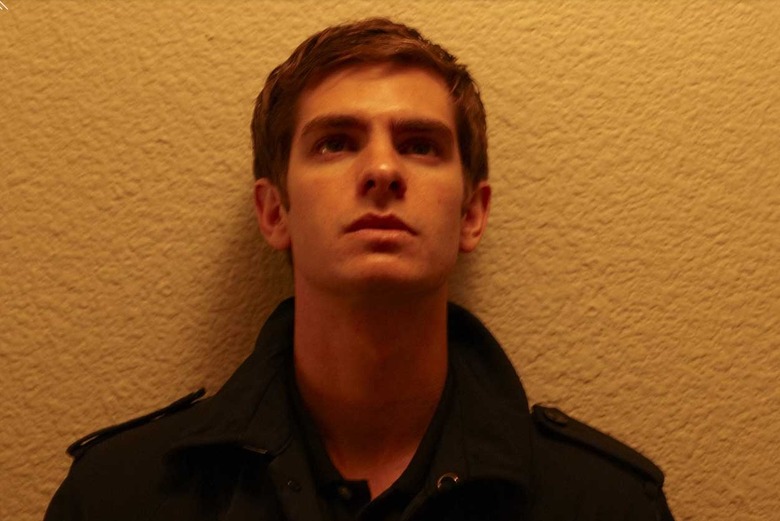 The new Peter Parker, also known as Eduardo Saverin, best known as Andrew Garfield, is doing the press rounds because of his buzzed about performance in The Social Network, which is being re-released this weekend. And any journalist would be remiss if they didn't ask him about his current job, rebooting the Spider-Man franchise with director Marc Webb and co-star Emma Stone. The film is currently two weeks into shooting and Garfield told the Los Angeles Times a bit about the experience, his excitement and the responsibility he feels. Read his quotes after the jump.
In an interview with The Envelope, the awards blog for the Los Angeles Times, Garfield spoke about what he's been through during the first two weeks of shooting.
We're two weeks in. The first week was full of stunts, and I've never felt happier in my whole life. I'm all bruised and scratched up, and it feels really good. It's just me throwing myself up against walls, which is incredibly fun and painful and testing my manhood. It's a childhood fantasy I'm living out.
Speaking of childhood fantasy, Garfield dressed up like Spider-Man as a child and used that to his advantage in getting the role. The reporter asked him if this was a role he had been playing since he was a child.
Yes. On Halloween. Bedtimes. Tuesdays. When I was auditioning, my parents sent me a photo of me as a kid in the Spider-Man costume. I gave it to my agent, and my agent slipped it to the studio as they were making their decision.
What skinny kid wouldn't love that character? I can't overstate enough when you start to actually identify what's happened and you go, "Yeah, I did dream of being Spider-Man when I was a kid." I'm trying not to lose my mind about it. But it's not superficial to me. It's not frothy or frivolous.
Of course, though, Spider-Man is an icon and this is a very high profile role. How does he feel about that?
The overriding theme of the comic is: With great power comes great responsibility. And, yes, I feel a huge sense of pressure and responsibility....It's infinite and never-ending.
Before Garfield hit it big with The Social Network, he'd been in two star-studded box office flops: Robert Redford's Lions for Lambs and Mark Romanek's Never Let Me Go. He doesn't think he'll have the same problem with Spider-Man.
What if no one sees it? It'd be hilarious. Maybe there'll be boycotters. My self-sabotaging makes me want to head the boycott.
What do you think of Garfield's quotes and confidence about the role? Couple those with the photos of him on set and we're starting to see a glimpse of what Marc Webb saw in him. Are you totally sold?