Trailer: Tim And Eric's Sundance Short 'The Terrys'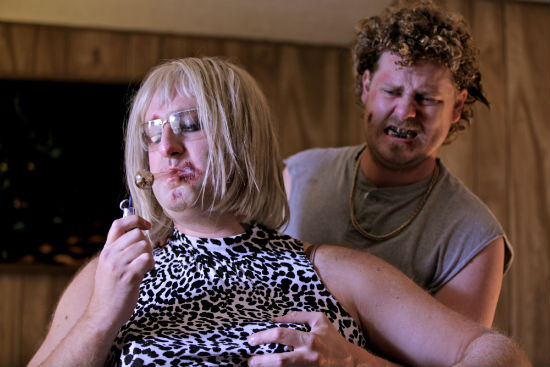 When the Sundance Film Festival announced their impressive short film program for 2011, a few stood out from the pack. One was The Terrys from cult comedy duo Tim Heidecker & Eric Wareheim. If you don't know Tim and Eric, then you probably don't watch TV past 11 p.m. They not only just finished the fifth and final season of their own television show, Tim and Eric Awesome Show Great Job, but have appeared on HBO's Funny or Die and are behind John C. Reilly's amazing character Dr. Steve Brule, who also has his own show. Tommy Wiseau's The Room probably wouldn't be the hit it is without them either, as they famously championed the film and had Wiseau direct an episode of their show.
Anyway, a trailer for their latest short film, The Terrys, has now shown up online and it absolutely, positively has that Tim and Eric feel. If you don't find this amusing, then you probably aren't going to like their brand of humor. They're an acquired taste for sure. Check out the trailer for The Terrys, as well as some other choice Tim and Eric clips, after the jump.
Thanks to Vulture for posting this trailer, which is straight off the YouTube page of Eric Wareheim.
The Terrys will be premiere at Sundance on January 21 and then run on HBO during the new season of Funny or Die. Here's the plot description from the Sundance site.
Two down-and-out losers conceive a child in a fit of drug-induced passion. They consider the child an abomination, but they learn that this "special" child has a special purpose.
Ever since my friend turned me onto Tim and Eric, I haven't been able to get enough of their super awkward, gross-out brand of humor. Their show, which aired late night on Cartoon Network as part of Adult Swin, was filled with sketches that would leave you turning away in horror while laughing hysterically. Here are a few of my personal favorites that offer just a hint at what Tim and Eric are all about.
Yes, that's Paul Rudd and Zack Galifianakis. Tim and Eric have famous friends. But that's just a small sample, I could literally go on for hours watching clips off the Adult Swim website.
Are you a Tim and Eric fan? What do you think of The Terrys?