This Week In DVD & Blu-Ray: Machete, Dinner For Schmucks, The Last Exorcism, Catfish
This Week in DVD & Blu-ray is a column that compiles all the latest info regarding new DVD and Blu-ray releases, sales, and exclusive deals from stores including Target, Best Buy and Fry's.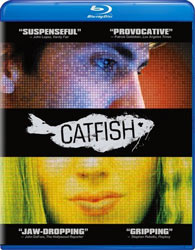 CATFISH
Good narrative-driven documentaries are hard to come by, for reasons that should be fairly obvious. It's one thing to be a talented filmmaker; it's another entirely to be lucky one. If we're meant to believe that Catfish is 100% authentic—and we are—then directors Henry Joost and Ariel Schulman are the luckiest talented filmmakers in the world. Because the story featured here is unbelievably perfect. (Keyword being "unbelievably".) To what extent Catfish is real or staged remains unclear, but thematically, it would be awfully fitting if it were all a ruse. Just as the troubling and deeply compelling Facebook-enabled internet relationship that unfolds over the course of the film proves itself too good to be true, so too it seems is the reality that these filmmakers are presenting to us. And that, in many ways, is what the film is all about: the steadily blurring line between reality and fiction. There's a whole lot more to it than that, certainly, but delving into other aspects of the film would require spoiling plot details that I dare not give away. So I'll just say this: Real or fake, it doesn't matter. This is a story that's timely, meaningful, and incredibly well told. It deserves to be seen and discussed.
Available on Blu-ray? Yes.
Notable Extras: DVD & Blu-ray – Secrets Revealed: Exclusive Interview with the Filmmakers.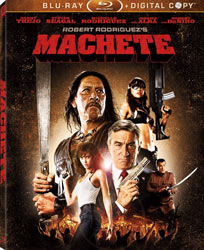 MACHETE
When a film is striving for the sort of deliberate badness that Machete is, it becomes increasingly difficult to fault it for being, well, bad. Really, the only thing one can justifiably expect a film of this sort to deliver is a sense of fun. And as dismaying as it is to admit it, Robert Rodriguez's latest entry in the mexploitation genre isn't nearly as fun as it should be. There are amusing moments abound—what else would you expect from a film that features beyond-gratuitous nudity, equally excessive violence, mini-machetes flung around on a chain, the always welcome presence of Jeff Fahey, and best of all, an improvised act of rappelling out a window that takes gore to an absurd new level—but the film also feels sloppily and thoughtlessly thrown together, and consequently, it starts to drag when it should be charging breathlessly forward. Moreover, the movie almost completely loses sight of Danny Trejo's place in the story the closer it gets to its less than satisfying climax, which is doubly disappointing since this probably marks his only opportunity to be a leading man in a major release. If watched casually with a group of friends, Machete offers a goofily enjoyable enough time to warrant a rental, but that's really the extent of the value it has to offer. Eh, good enough, I suppose.
Available on Blu-ray? Yes.
Notable Extras: DVD – Audience Reaction Track, and Deleted Scenes. Blu-ray – Includes everything on the DVD, as well as a digital copy of the film.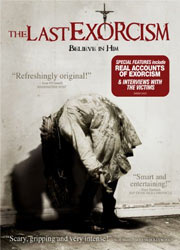 THE LAST EXORCISM
How heavily can two minutes of a movie impact the entirety of it? The Last Exorcism puts that question to the test, just about undoing (within seconds!) all of the good will it had built up as a respectable and impressively acted faux horror documentary about the ways in which faith, belief and religious fervor can control a society and the minds of those within it. Had it actually committed to its ending, instead of simply tacking it on an otherwise troubling and smartly crafted story, I might be able to support it more fully, but as is I'm both let down and vaguely appalled. I was already somewhat put off by the way ominous music pervades the film's scarier moments—silence would've been simultaneously more appropriate and more frightening—but I was willing to forgive that in lieu of what else the film had to offer. The moment those credits hit though, I suddenly felt a whole lot less forgiving.
Available on Blu-ray? Yes.
Notable Extras: DVD – An Actor and Director commentary with Daniel Stamm, Ashley Bell, Patrick Fabian and Louis Herthum, a second commentary with Producers Eli Roth, Eric Newman and Tom Bliss, 2 featurettes ("The Devil You Know: The Making of The Last Exorcism", "Real Stories of Exorcism"), and a 2009 Cannes Film Festival teaser trailer. Blu-ray – Includes everything on the DVD, as well as a commentary with a Haunting Victim, Deliverance Minister and Clinical Psychologist, audition footage, the theatrical trailer, and a digital copy of the film.

DINNER FOR SCHMUCKS
There's something almost impressive about the way Dinner for Schmucks managed to take so many actors I love—Steve Carell, Paul Rudd, Zach Galifianakis, Jemaine Clement—and make me hate them all. The film aims to recreate the farcical and theatrical nature of the hilarious French film The Dinner Game for a more mainstream audience, but the comedic dynamic it creates is less endearing than it is annoying. Nobody acts like an actual person in this movie. Literally every character acts out in absurd and unbelievable ways, in exactly the way you wish they wouldn't. There are worse comedies out there, sure, but precious few are quite so enthusiastically irritating.
Available on Blu-ray? Yes.
Notable Extras: DVD – Featurettes ("The Biggest Schmucks in the World", "Schmuck Ups"), and deleted scenes. Blu-ray – Includes everything on the DVD, as well as 3 additional featurettes ("The Men Behind the Mouseterpieces", "Meet the Winners", "Paul and Steve: The Decision").
EXCLUSIVE DEAL:
What? Get a $5 Best Buy Gift Card when you buy Dinner for Schmucks on DVD or Blu-ray.
Where? Best Buy.
EXCLUSIVE DEAL:
What? Buy Dinner for Schmucks on Blu-ray and get Anchorman on Blu-ray for $9.99.
Where? Best Buy.
Other noteworthy DVD (and Blu-ray) releases this week...
Howl [DVD / Blu-ray] – Case 39 [DVD / Blu-ray] – The Ricky Gervais Show (Season 1) – Big Love (Season 4)
Noteworthy Blu-ray-specific releases this week...
Ishtar – El Mariachi / Desperado – Once Upon a Time in Mexico

NOTES: Some deals may vary by store. Some deals may be in-store only. All deals are for DVDs unless otherwise noted.

$12.49 – Weeds (Season 1)
$17.49 – Mad Men (Season 1)
$22.49 – The Sopranos (Season 1)
$24.99 – Prison Break (Season 1)

$9.99 – Arrested Development (Season 1 – 3)
$12.99 – Stargate SG-1 (Season 1 – 10)
$8.99 – Blu-ray sale: Across the Universe, The Dark Crystal, Ghostbusters, Hancock, House of Flying Daggers, Labyrinth, Superbad, Talladega Nights: The Ballad of Ricky Bobby