Dimension Films Picks Up Kristoffer Aaron Morgan's 'The Home'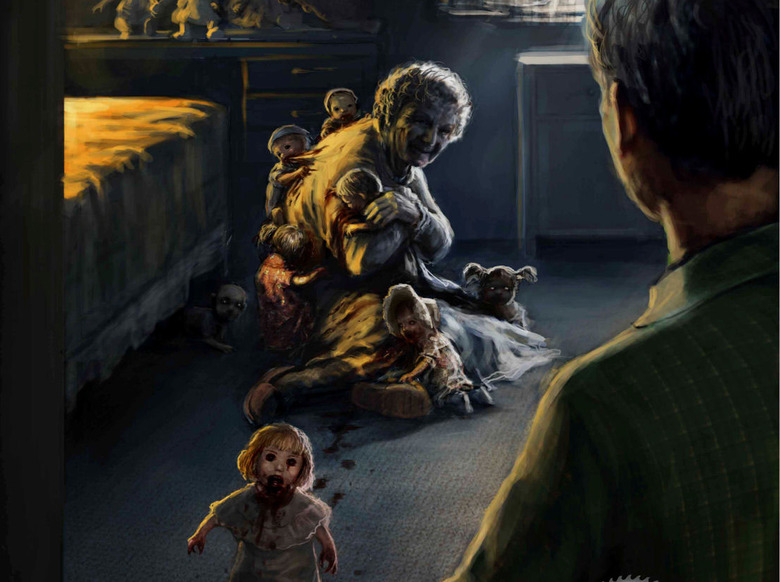 I have just heard that Bob Weinstein and Dimension Films have acquired Kristoffer Aaron Morgan's H.P. Lovecraftian horror film The Home. I'm happy to hear that Dimension Films wants to release an original movie again. The Home seems like a film they would have invested in back in the mid-1990's. It seems like now-a-days, they're concentrating mostly on sequels, remakes and un-funny parody movies. No word on if Dimension will be releasing the film theatrically or just home video. I'm sure, at very least, The Home will have a film festival run.
Penned by Morgan alongside Eric Vespe (better known to film geeks at Quint from Ain't It Cool News), the story has been described as a "character driven, atmospheric, twisted creature flick". The Home tells the story of a firefighter who "is nearly killed during a failed rescue that leaves him physically and emotionally scarred. To recuperate, he is taken to a secluded nursing home where the elderly residents appear to be suffering from delusions. But after witnessing a violent attack, he soon realizes that the screams behind the walls are caused by more than hallucinations, and the residents are being preyed upon by twisted, monstrous nightmares that lurk within the home itself." Sounds rather creepy. And yes, the concept art above is from the production — created by the minds at WETA (District 9, Lord of the Rings).
The film is gearing up to film in Austin Texas, with a cast which includes Brian Cox (The Bourne Identity), Cloris Leachman (Young Frankenstein), Louise Fletcher (One Flew Over the Cuckoo's Nest), Louis Gossett Jr. (The Invaders, Jaws 3D), Ed Asner (Up, The Mod Squad), and Fionnula Flanagan (Lost, The Others). They also have a great team of people behind the camera, including producer Elizabeth Avellan (Sin City, Grindhouse, Predators, Machete), co-producer Elijah Wood, Voltage Pictures, and the legendary KNB Effects company is providing the practical and creature effects. A while back I was shown a video that Peter Jackson recorded to try to raise funding  for this film. From what I understand, Jackson even provided notes that were incorperated into the script.