Free Movie: Lloyd Kaufman's 'Direct Your Own Damn Movie!'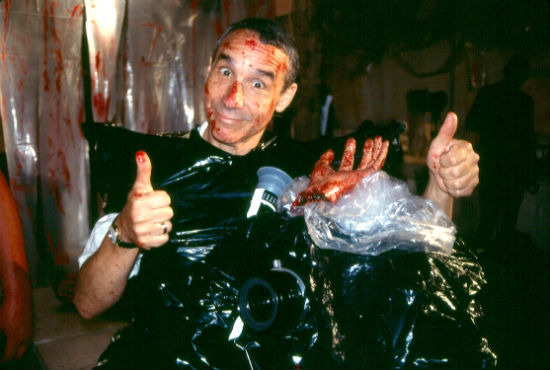 In high school, one of my most memorable reads wasn't The Catcher in the Rye or Of Mice and Men. It was Troma founder Lloyd Kaufman's first book Make Your Own Damn Movie. Sure the works of Salinger and Steinbeck offered their own rewards, such as literary allusion and beautiful prose, but Kaufman's tome gave tips on how to make a man's head explode on camera. As an aspiring film writer, that was something I could dig into. Later, Kaufman, who directed The Toxic Avenger, Tromeo and Juliet, Terror Firmer and others, updated that original book with a new title called Direct Your Own Damn Movie, which he then adapted into a feature length documentary. That film is now available for free on Hulu.
Check out the full movie below.
If you've ever had an inkling to make it in the film business, listening to Kaufman's advice, even for a moment, is a must. The man is a low budget legend and though he may come off like a bit of a mad man (which he is) he has more experience making movies than you can imagine. He's sort of an updated version of Roger Corman, as several filmmakers came up under his wing or were largely inspired by Kaufman's work at Troma.
Funny enough, as much as I respect Kaufman as a filmmaker and enjoy his writing and film making prowess, I'm not the biggest fan of Troma movies. Gore for the sake of gore kind of annoys me. In fact, when asked what my favorite Troma movie is, I'd have to say Trey Parker and Matt Stone's Cannibal The Musical. Of course, while that film was distributed by Troma, Troma didn't produce it, so it really doesn't count.
What are your favorite Troma films and where do you think Kaufman ranks alongside today's B-movie filmmakers?