The RZA Is Now Shooting 'The Man With The Iron Fist'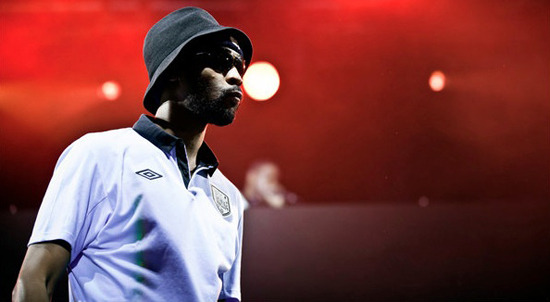 I'd love to recap the meetings that got Universal to write a check to the RZA to the tune of twenty million bucks so the music producer turned actor turned sapling green director could go to China and make a kung-fu movie. Did he fill the boardroom with mind-altering gas, a la the '60s Batman TV series, or what?
Regardless, the RZA is now in China shooting The Man With the Iron Fist, and his producer/co-writer/advisor Eli Roth is along for the ride.
This is the point where I'll remind you that The Man With The Iron Fist features RZA as "the title character, a blacksmith who forges weapons for the inhabitants of a village in feudal China. They are forced to defend themselves, and before you know it, everybody is kung fu fighting."
So, back to the shoot. On Dec 22 Eli Roth said via Twitter, "I'm in China. I feel like a Jew on Christmas...The Chinese film crew are so fast and efficient I feel like I'm watching an episode of Benny Hill."
Then something interesting: Marco Sparmberg, a filmmaker based in Hong Kong, tweeted "Finally the bits & pieces of intel I get make sense: Tarantino shooting IRON FISTS in Shanghai right now."
I'd take that last bit of info with a slight bit of caution, because it comes from someone that isn't part of the production, and other reports put Tarantino in California right now. Eli Roth is helping RZA make the film, and given the previous working relationship between RZA and Tarantino on Kill Bill, and Roth and Tarantino for Grindhouse, it isn't at all unreasonable to see the director making his way to China, at least to pay a visit to the set. But if so, that's probably all it was. Also unconfirmed is the lingering report that Russell Crowe is part of the film. (He and RZA have worked together a couple times in recent years, on American Gangster and The Next Three Days.)
So, yeah, the RZA has unknown leading man status and his ability as a filmmaker can reasonably be called into question based on what we've seen from his unreleased Wu-Tang Vs. the Golden Phoenix. But which would you rather see — the realization of a passion project by a guy who has spent his entire career idolizing and reconfiguring elements of his chosen genre, or a piece of assembly line licensed bullshit like Ouija? Thankfully that's not all we have to choose from, but even so, I'll happily keep an eye on The Man With the Iron Fist.
[Twitch]