McG To Direct Hasbro's Adventure Film 'Ouija'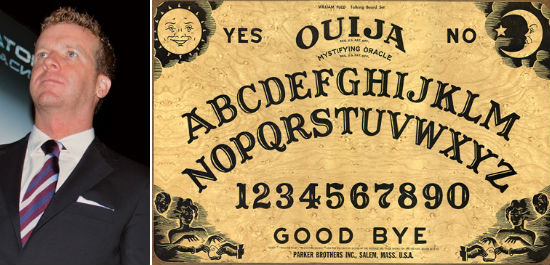 Right before the holidays, we reported the director's chair for the big budget adventure film Ouija was down to two directors: Breck Eisner and McG. Well, Charlie's Angels have defeated The Crazies and Universal Pictures has chosen McG to direct the film, based on the Hasbro board game, written by Edward Kitsis and Adam Horowitz (Lost, TRON: Legacy) and scheduled for release November 9, 2012. There's more after the break.
As we've reported in the past, Ouija isn't going to be a supernatural film, as one would surmise based on nature of the board game. Instead, it'll use the board game – in which invisible forces are supposed to guide your hands to send messages from beyond our plain of existence- as a building block to form a large scale, family adventure movie.
It's certainly in vogue to hate on McG, as one can tell by the comments on nearly every single story that mentions his name, but I really am not against his directing Ouija. I'll admit he does not have an eye for the minutia of filmmaking, such as performance and tone, but what he does have is a great sense of scale and that's key in an adventure movie. Even his so-called "smaller movies," like We Are Marshall, feel big. They exhibit scope and aim to entertain. Now, he might fail more often than he succeeds (Terminator Salvation is one of the biggest disappointments in my film going memory) but given the right material, I think he has the capacity to make a really fun film.
Plus he's not alone. Besides his geek-certified screenwriters, McG will have the Hasbro brass and Platinum Dunes crew (including Michael Bay) behind him, plus he should be able to extract some pointers from Universal's first Hasbro movie, Peter Berg's Battleship, which hits theaters in May 2012.
Shooting is scheduled to start this summer once McG finishes This Means War with Reese Witherspoon, Tom Hardy and Chris Pine.
Okay, let the hate rain down. Does no one think McG can make a fun adventure movie on par with something like The Mummy? That's not too much to ask for, is it? We're not talking Raiders of the Lost Ark here. Maybe just a solid Pirates of the Caribbean: At World's End.
Source: Deadline