'Monsters' Director Gareth Edwards To Remake 'Godzilla'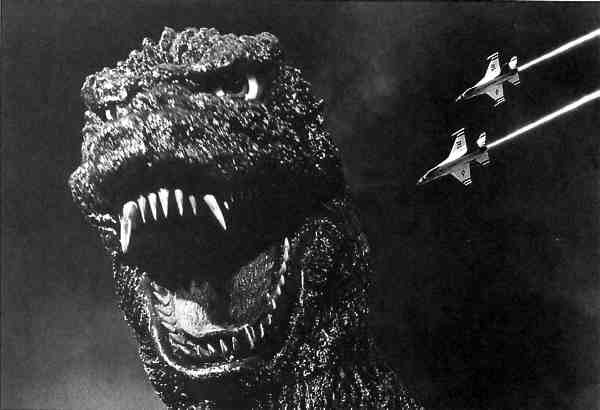 Legendary Pictures has finally found a director for their American Godzilla movie, British filmmaker Gareth Edwards who shot to fame in 2010 with his feature film debut Monsters. HeatVision reports that Edwards is closing on a deal to develop and direct the creature feature for the production company behind the Nolan-directed Batman films, 300, Superman Returns, Watchmen, Clash of the Titans, Sucker Punch and The Hangover. As with any film the produce, Warner Bros. will co-produce, co-finance and distribute the film.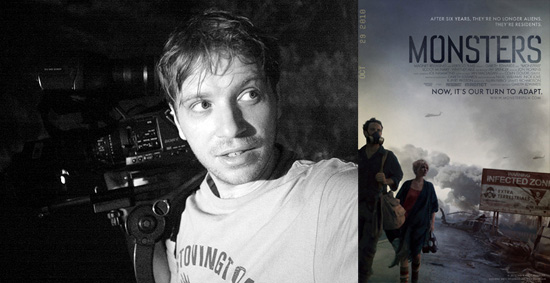 I had previously heard that Tim Burton was circling the project, but later decided to develop a big screen adaptation of Monsterpocalypse instead. Edwards seems like a much better choice, and one that has experience telling a human story set in a world being destroyed by monsters. He also has a very good grasp on making films on a low budget (ala Robert Rodriguez) and how to use visual effects to create his vision.
We've been praising the filmmaker since we screened Monsters at the 2010 Cannes Film Festival (read my mini review here).  Frustrated by the "factory approach to filmmaking," Edwards entered Scifi London's 48 hour film contest, hoping to prove that a filmmaker couls create a cinematic short film with no crew and just one actor, in just 2 days. The film won first prize and led to his feature film debut Monsters. If you haven't seen the film, here is a trailer:
Hollywood is already going nuts over the filmmaker, who supposedly made the film for a fraction of a million dollars (maybe even as little as $15,000), and some are touting him as the next Neill Blomkamp. We've posted a featurette showing how director Gareth Edwards was able to achieve what he did with Monsters on such a low budget, and we've even posted a video showing you how Edwards produced the 250 high definition resolution effects shots by himself in in his bedroom for the 2008 one hour BBC drama Attila the Hun.
David Callaham wrote an earlier draft of the script, but Edwards will soon start work with a yet-to-be-named writer on the project. Edwards is also attached to write and direct an epic sci-fi project being produced by Timur Bekmambetov.
Here's the full press release from Legendary which was released earlier this year:
Burbank, CA – March 29, 2010 – Legendary Pictures announced today that they will develop and produce a new film based on Toho Company's famed GODZILLA character.  Through the terms of the agreement, Legendary Pictures has acquired the rights to produce a movie inspired by Toho's Godzilla, a franchise the Japanese company created and has nurtured for over fifty years.
Toho's GODZILLA franchise boasts one of the most widely recognized film creatures worldwide, resulting in a series of books, television programs, video games and more than 25 films worldwide.  Legendary intends to approach the film and its characters in the most authentic manner possible.  The company will, in the near future, announce a filmmaker to helm the film for an intended 2012 release. The film will fall under the company's co-production and co-financing deal with Warner Bros.  Toho will distribute the film in Japan.
"Godzilla is one of the world's most powerful pop culture icons, and we at Legendary are thrilled to be able to create a modern epic based on this long-loved Toho franchise," said Thomas Tull, Chairman and CEO of Legendary. "Our plans are to produce the Godzilla that we, as fans, would want to see.  We intend to do justice to those essential elements that have allowed this character to remain as pop-culturally relevant for as long as it has."
"Godzilla is a signature Japanese character which we have nurtured over the years. It is a great honor to reach an agreement with Legendary Pictures, the parent to many a blockbuster film, and we are delighted in rebooting the character together to realize its much anticipated return by fans from all over the world," comments Hideyuki Takai, President of Toho Co., Ltd. "We are anxious to find out where Godzilla's new stomping will take us."
"Godzilla is emblematic of the kind of branded, event films for which Warner Bros. and our partners at Legendary are best known. We have enjoyed a great deal of success together to date and this newest opportunity represents yet another chance for us to collaborate on a property that is very clearly in their wheelhouse," said Jeff Robinov, President, Warner Bros. Pictures Group.
In addition to Legendary, producers on the new film will be Dan Lin, Roy Lee and Brian Rogers. Yoshimitsu Banno, Kenji Okuhira and Doug Davison will Executive Produce.