'Henry's Crime' Trailer, With Keanu Reeves And Vera Farmiga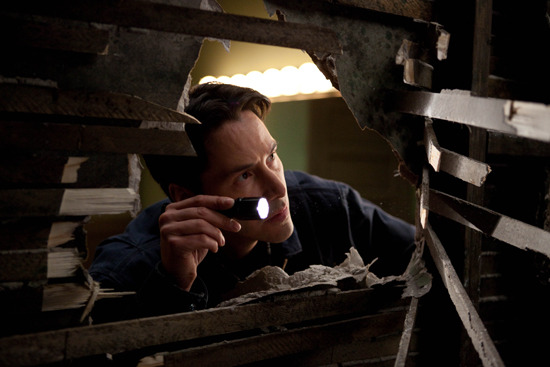 Henry's Crime, starring Keanu Reeves, James Caan and Vera Farmiga, premiered at TIFF back in September '10, but we're just getting a trailer for the film now. Malcolm Venville (44 Inch Chest) directs from a script by Sacha Gervasi (Anvil!: The Story of Anvil). The film opens in the UK next week, and the trailer is after the break.
I like the way this trailer plays; it's a quick, fun clip that suggests the movie has just enough personality to carry it through the kind of thin romantic heist premise. Reviews were mixed out of TIFF, calling it more of a standard romantic drama than anything else, but I'll check this out just for James Caan.
US rights are seemingly in the hands of Maitland Primrose Group, but we don't have a release date at this point.
Here's a synopsis that echoes and slightly expands upon what you learn from the trailer:
Working the night shift as a toll collector on a lonely stretch of highway in Buffalo, New York, Henry (KEANU REEVES) is a man without ambition, dreams or purpose. He gets his wakeup call early one morning when he becomes an unwitting participant in an ill-conceived bank heist. Rather than give up the names of the real culprits, Henry takes the fall and goes to jail. There, he meets the irrepressible Max (JAMES CAAN), a con man who's grown far too comfortable with the familiarity and security of his 'idyllic' life behind bars. He's not about to leave prison. But he helps plant an idea in Henry's mind that will change his life forever.
Upon his release one year later, Henry finds his purpose. Having done the time, he decides he may as well do the crime. Discovering a long forgotten bootlegger's tunnel, which runs from the very same bank to a theater across the alleyway, he recruits his reluctant former cellmate to stage a robbery. Their plan is simple: By infiltrating the theater and its current production of "The Cherry Orchard," the unlikely duo will buy just enough time to dig their way to the bank vault and drive off into the sunset. Unfortunately, that plan also includes Henry taking the lead role in the play, where he finds himself slowly falling for the production's mercurial leading lady, Julie (VERA FARMIGA).
[HeyUGuys]