True Grit: See 500 Rooster Cogburns, And Learn The Truth About Matt Damon's 'Abs Double'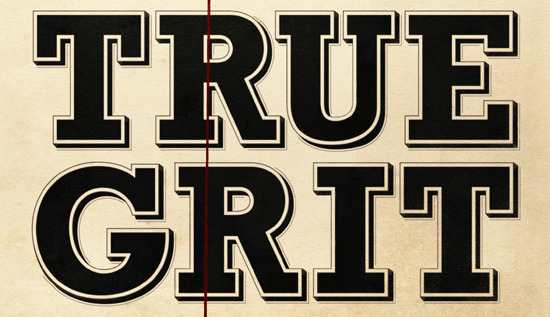 Is True Grit going to be the new The Big Lebowski, inspiring fan gatherings all over the country? Probably not, but on the eve of the opening of Joel and Ethan Coen's new version of True Grit, hundreds of people gathered in front of Judge Parker's gallows at Fort Smith, Arkansas to partially recreate the classic showdown between Marshall 'Rooster' Cogburn and Lucky Ned Pepper. Watch video of the unusual gathering after the break. And, as a bonus, get the truth about the most curious credit in the film: Matt Damon's Abs Double.
Here's the video of Gritapalooza, via In Contention. Seeing all those people perform the dialogue in unison is almost like seeing True Grit: The Musical. Hmm...
From the YouTube posting comes this explanation:
Fort Smith, Arkansas is the setting and inspiration for True Grit, so on the eve of the new Coen Brothers' release, more than 500 Rooster Cogburns showed up at the Fort Smith National Historic Site's gallows to challenge Lucky Ned Pepper in True Grit's final showdown. Lucky Ned was played by Professional Bull Riders Hall of Famer Denny Flynn, and the crowd was led by Mayor-Elect Sandy Sanders as the Chief Rooster. Men, women and kids of all ages sported eye patches and Marshals badges to turn themselves into Rooster, and dozens arrived in full costume. Our apologies to John Wayne and Jeff Bridges, and to author Charles Portis–this tribute was done out of love for the material! Fort Smith LOVES True Grit!
And then there's the truth about Matt Damon's Abs Double, which is a credit at the end of the movie that I know at least a few people have wondered about.
Scott Feinberg revealed the truth a couple weeks ago (pointed out by Cinematical), which is that Buster Coen, credited as the 'abs double,' is Ethan Coen's 15-year old son, who worked as an assistant to the script supervisor on the film. He didn't want to be credited as such, and chose Matt Damon's Abs Double as his credit instead. (In the Q&A from which this info comes, Matt Damon said the credit choice was because Buster Coen wanted a 'more important-sounding' credit.)