See 'Machete' Recapped In One Minute Of Claymation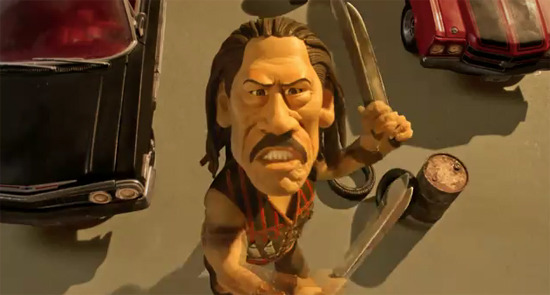 Machete may not text, but he sure can sell some iced tea. A commercial for Lipton Brisk Iced Tea hit YouTube between Christmas and New Years, and it's like a little last-minute gift for Danny Trejo fans. In one minute, the actor recaps the plot of Machete, complete with slicing guys in half, some lovemaking, and a lot of hand-washing. Frankly, I like it a lot better than the movie. Spare a minute and hit the jump to check it out.
This is evidently the revival of a commercial series that once created claymation likenesses of Rocky Balboa, Daniel from The Karate Kid and Bruce Lee. (The latter commercial, featuring the clever "Editing mistake. In my favor!" line, is below.)
And yes, that's Danny Trejo doing the voice of Machete, as you can see in the two behind the scenes clips that follow the commercial. Nice that he slips in a little promo for the Machete DVD (out today) and the possible theatrical sequel to the film.
[via Twitch]