Rumor: Ewan McGregor Cast As Famed Eco-Pirate Paul Watson In 'Ocean Warrior'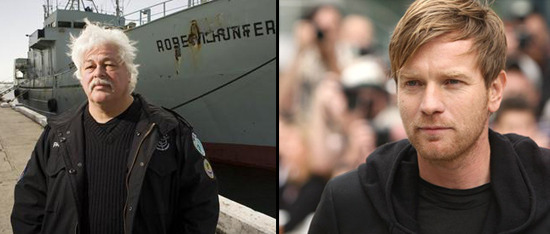 Late last year, Keith Ross Leckie and Julie Allan were hired to write Ocean Warrior, a biopic about 'eco-pirate' and Greenpeace activist Captain Paul Watson. Now there is a report that Ewan McGregor will play the lead role.
The comments about the actor being hired reportedly come from Paul Watson himself. Trouble is, I can't find the actual posting of said comments (which follow), nor could Bleeding Cool. Ecorazzi reports that the comments were posted at Planet Ocean Alliance, but I haven't been able to turn up the real post.
The making of this movie has been a project in Hollywood since 1981 when Tony Bill first bought the rights from me for Warner Brothers," writes Watson. "The option rights have been purchased every year but now finally it looks promising, with a written script and serious pre-production work. Over the years a number of actors have requested to play my part including Sean Penn, Christian Bale, Heath Ledger, Aiden Quinn, Rutger Hauer, Clive Owens etc. As of now it looks like Ewan McGregor. I think he will do a good job, although I would love to see long time Sea Shepherd supporter Christian Bale take the part. As for a leading lady my favourite actress has always been Sophie Marceau, but the choice is not mine unfortunately.
Watson is also the center of the show Whale Wars, which airs on Animal Planet. He was an early member of Greenpeace but was turned out from the organization when he pushed for more direct action than the rest of the board would approve. He founded the Sea Shepherd Conservation Society afterward, and remains active in the fight against whaling, especially as illegally practiced by Japanese vessels.