Disney To Finally Release 'Beauty And The Beast' And 'Lion King' In 3D... On Blu-Ray?
It has been over two years since Walt Disney Animation Studios announced that they would be converting Beauty and the Beast into 3D for a Valentine's Day 2010 theatrical rerelease. Disney has been showing a short test of the 3D footage at various industry events, including last year's ShoWest. Unlike the live-action 3D post conversions, I was actually quite impressed with what Disney was able to achieve with the added dimensionality (read my previous report here). I actually havent talked to one person that didn't like the 3d scene they screened.
As Valentine's Day 2010 quickly approached, Disney pushed the release back to a To Be Announced 2011 date. And it was later revealed that they were so happy with how Beauty 3D turned out, that they were also in the process of converting The Lion King to 3D as well.
Good news: Today we have finally been told when we can see these 3D conversions of Disney's animated classics...
Bad news: they are releasing the films direct to 3D Blu-Ray in 2011, with not theatrical rerelease expected.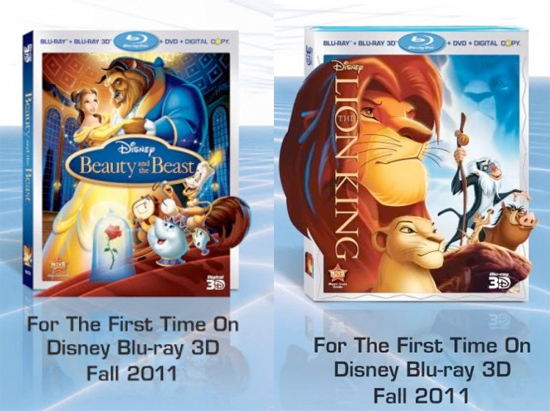 THE WALT DISNEY STUDIOS UNVEILS STELLAR 2011 BLU-RAY 3DTM RELEASE SLATELeader In 3D Filmed Entertainment To Offer At Least 15 Films On Growing Blu-ray 3D Format For The Home– TRON: LEGACY and TANGLED Lead Day-and-Date 3D Releases and THE LION KING and BEAUTY AND THE BEAST Make 3D Debut –
BURBANK, Calif. — January 3, 2011 — Continuing its leadership in the advancement of 3D entertainment and marking the most significant title commitment to the growing Blu-ray 3DTM market, The Walt Disney Studios today announced plans to release at least 15 of its films for in-home viewing on Blu- ray 3D in 2011.
Among the stellar list of films to debut on 3D include beloved and celebrated animated classics THE LION KING and BEAUTY AND THE BEAST, recent theatrical releases including the visually stunning high tech adventure TRON: LEGACY and acclaimed box-office smash hit TANGLED, plus many others to be announced that will release day-and-date and packaged with the Blu-ray 2DTM version.
"As our contemporary library of 3D content continues to grow, and the original artists and filmmakers meticulously "dimensionalize? their work for release on the Blu-ray 3D format, we will be offering movie- lovers the most incredible in-home entertainment experience they will ever have," noted Lori MacPherson, Executive Vice President and General Manager, Walt Disney Studios Home Entertainment. "In addition to offering new releases day-and-date in 3D and further cementing our leadership in the marketplace, we?re thrilled that consumers will have the exclusive Blu-ray 3D experience of two of the most celebrated Disney animated features, THE LION KING and BEAUTY AND THE BEAST, in their homes."
Also included among the titles slated for release in 2011 are BOLT, MEET THE ROBINSONS, TIM BURTON'S THE NIGHTMARE BEFORE CHRISTMAS, G-FORCE and CHICKEN LITTLE. These titles will join Walt Disney Studios? recent 2010 Blu-ray 3D releases ALICE IN WONDERLAND, DISNEY'S A CHRISTMAS CAROL and STEP UP 3, bringing Disney?s list of available Blu-ray 3D titles for the home to nearly 20 in all.In addition to the film being in 3D, each disc will include thematically linked 3D menus, 3D previews of coming-attractions trailers and an introduction to the eye-popping world of Disney Blu-ray 3D featuring beloved characters Timon and Pumbaa from THE LION KING.