James Franco In Talks To Direct Adaptations Of Faulkner's 'As I Lay Dying' And McCarthy's 'Blood Meridian'?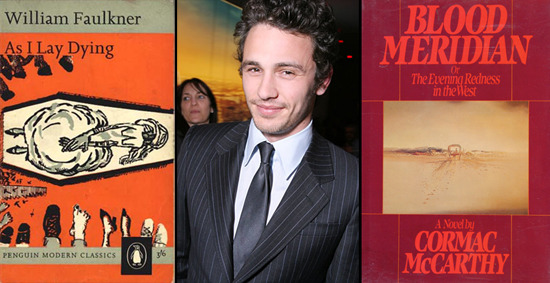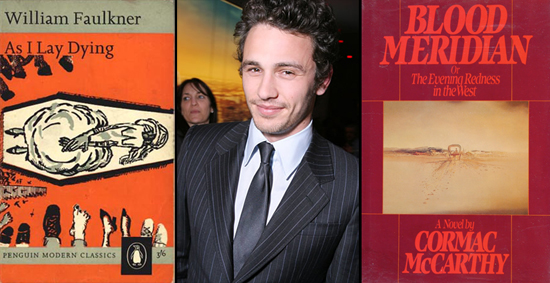 You can't say that James Franco isn't ambitious. He has recently optioned a set of memoirs as possible writing and directing projects, and seems to be taking acting gigs at a rapid pace, all while studying at Yale.
Now there's a report saying we can add two other possible directorial projects to the pile, and neither of them is exactly small-time stuff. It claims Franco is working on two different deals to write and direct adaptations of difficult literary properties: William Faulkner's As I Lay Dying, and Cormac McCarthy's Blood Meridian.
Roger Friedman talked to the actor, and reports that he has been working with the Faulkner estate to get a film off the ground adapting As I Lay Dying, which the actor would direct from his own script. If things work out with the estate, Fox Searchlight would back the production. Roger Friedman reports that the actor says this is "the one he's most attached to."
So, before we go any further, let's get this out of the way: Indiewire communicated with Blood Meridian producer Scott Rudin, who downplayed the part of Friedman's report that has to do with his movie. We don't know the exact text of his response, or if the report of Franco's involvement is totally false, but his response makes us wonder about As I Lay Dying as well. Anyway, on with the details of each book.
As I Lay Dying is William Faulkner's fifth novel, which he claimed to have written in six weeks and published without editing a word. It contains myriad narrators and characters, and follows the death of Addie Bundren and her family's attempt to have her buried in Jefferson, Mississippi. (That being a fictional town based in some part on Faulkner's home town of Oxford, Mississippi.) \
It's the sort of novel that is difficult to imagine many directors handling well. Robert Altman could have done it in his prime, and there are certainly others talented enough to make it work. Is Franco among them? I honestly don't know.
And then there's Blood Meridian, which is a dense, difficult and extraordinarily violent novel to which Ridley Scott was attached for quite some time. Friedman says James Franco is working out a deal with producer Scott Rudin to write and direct the film. In 2009, author Cormac McCarthy commented on the notion of a film adaptation,
The fact that's it's a bleak and bloody story has nothing to do with whether or not you can put it on the screen. That's not the issue. The issue is it would be very difficult to do and would require someone with a bountiful imagination and a lot of balls. But the payoff could be extraordinary.
A bountiful imagination and a lot of balls certainly seems to describe James Franco of late.Here's Amazon's review of the novel, which actually manages to capture it, at least in part:
If what we call "horror" can be seen as including any literature that has dark, horrific subject matter, then Blood Meridian is, in this reviewer's estimation, the best horror novel ever written. It's a perverse, picaresque Western about bounty hunters for Indian scalps near the Texas-Mexico border in the 1850s–a ragged caravan of indiscriminate killers led by an unforgettable human monster called "The Judge." Imagine the imagery of Sam Peckinpah and Heironymus Bosch as written by William Faulkner, and you'll have just an inkling of this novel's power. From the opening scenes about a 14-year-old Tennessee boy who joins the band of hunters to the extraordinary, mythic ending, this is an American classic about extreme violence.