/Film LA: Edgar Wright Programs The New Beverly January 14-31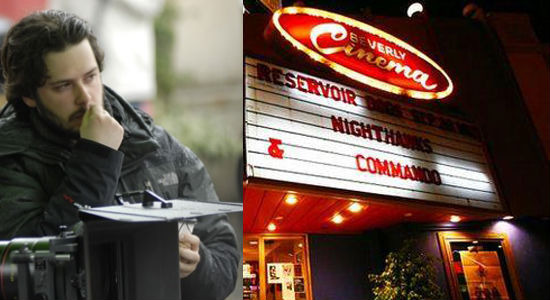 The New Beverly Cinema in Los Angeles is one of those movie theaters that film fans must visit at some point in their life. Maybe it's not the prettiest theater in the world, but the tickets are cheap, the popcorn is cheap, and it regularly has some of the best, if not the best, repertory screenings imaginable, mostly in double features. Now, for their 2011 season, they've decided to kick it off the Wright way. The Edgar Wright way.
The New Bev will play host to over two weeks of films programmed by director Edgar Wright. They did it three years ago and now, the director of Shaun of the Dead, Hot Fuzz and Scott Pilgrim vs. The World (which will screen as one marathon) is back for The Wright Stuff II. Wright has chosen twenty films to play over 18 days beginning January 14 and most of the films are specially themed double features. Want to know what's playing when, with what and whom? Then hit the jump.
The whole thing kicks off on January 14 and 15 with a marathon triple feature of Wright's latest three films. Shaun of the Dead, Hot Fuzz and Scott Pilgrim vs. The World. Here's what Wright had to say about the pairing and, for the rest of the article, we'll pull the quote that Wright put up about the film (or films) on his blog.
How hardcore are you? Enough to deal with my last three movies in one marathon night? If so, I will see you there!
Next up on January 16-17 is Terry Gilliam's Brazil followed by Jean-Pierre Jeunet's Delicatessen. For Brazil, here's what Wright said.
There are not many film fans that are not profoundly affected after watching 'Brazil' for the first time. After scoring a worldwide hit with 'Time Bandits', Terry Gilliam spent his box office chit in the most crazily ambitious way possible. 'Brazil' is a film so bold and brilliant, that it nearly didn't see the light of day and was almost regulated to an Orwellian film vault never to reach general audiences. But it escaped, to inspire all who see it.
And for Delicatessen.
I saw Delicatessen on its initial release at the age of 17. My teenage mind could barely process this wild debut; brimming with style, bold of palette, mixing black hearted humor with the sweetest comedy. It's an insane piece of work by two amazing artists, Jeunet & Caro. You've seen it ripped off in a million ways, by music video and commercial directors, by my good self and by the directors themselves. See it back on the big screen and applaud one of most influential comedies of the last few decades.
The third round of films are all about bad ass cops. Clint Eastwood is Dirty Harry and Gordon Parks' The Super Cops play on January 18-19.
Dirty Harry is still the classic cop film. I've been unhealthily obsessed with it since I was 11, It has both Don Siegel & Clint Eastwood at the peak of their powers, the greatest villain of all time in Andy Robinson's deranged Scorpio and one of my very favourite scores by Lalo Schrifin. I can tell you how many times I've seen it, ripped it off, been wowed by it. For me the Warner Brothers logo is forever linked with the crime ridden San Francisco of this movie.
And Super Cops.
The Super Cops is a rare treat on the big screen. I first saw this on TV at a very young age an was taken with the story of the real life Batman & Robin of New York; beat cops Greenberg & Hantz. I saw the film again recently and it did not disappoint. It's an unsung buddy classic, mostly down to the unlikely badasses that are Ron Liebman and David Selby. I defy you to not come out of this movie loving this pair. I'm excited to watch this utter gem with you on the big screen again. (Worth noting that the Batman & Robin connections don't end with Greenberg & Hantz's nicknames, the film is also written by Batman's TV screenwriter, Lorenzo Semple Junior.)
On January 20-21, Wright takes us back to the blockbuster 1970s with George Lucas' American Graffiti and National Lampoon's Animal House.
Two 70's box office smashes for Universal. Two fantastic jukebox soundtracks. Two great movies set in 1962. Both hugely influential. George Lucas' last non Star Wars directed movie is still as fresh and funny as when it was first released. It's still the daddy of the 'all in one night' genre which spawned films like Dazed & Confused and Superbad. And its nostalgic look at the 60's created a retro revival that never went away. American Graffiti is a treat to watch, seeing all these young actors and film-makers working on something so funny, effortless and yet truly poignant.
Now imagine that Richard Dreyfuss' character leaves for college at the end of one movie and arrives at Faber College... Then we arrive at John Landis' Animal House, a raucous behemoth of cinematic comedy that truly changed the landscape. This film made careers, created a new genre of adult comedy and continues to be imitated to this day.
From the funny and nostalgic to the suspenseful and thrilling, on January 22-23 Wright has chosen Alfred Hitchcock's Frenzy followed by the Brian De Palma classic Dressed to Kill.
Late period Hitchcock and golden period De Palma, together at last. Both fantastic thrillers, breathtaking technical exercises and coal black comedies.
Frenzy had a mixed reception when first released as some were disappointed that Hitch finally showed in graphic detail what he had only hinted at before. I say this ruthless atmosphere only strengthens this grimly funny tale of a man wrongly accused of being a serial killer. As a Brit myself, I personally love the early 70's grubbiness of the tale, murder among the fruit stalls and potatoes. Lovely!
Dressed To Kill opens with a dream sequence, but the nightmare never ends. De Palma conjures a dark cloud of doom over his ensemble and creates opera from terror. The technique in this film is absolutely incredible, one of those movies that is a mini film school in itself.
Following those films, at midnight on January 22, going into the 23rd, they'll screen Run Lola Run.
Tom Tykwer's Run Lola Run is the kind of movie I wish I'd directed; there's such a joyful explosion of ideas and techniques, such great momentum and perpetual motion. When I first saw this it made me want to direct another movie more than ever, I remember dragging friends to see it, including Simon Pegg & Jessica Hynes. Indeed it had an influence on my favorite Spaced episode Gone (2.5). It will be great to see this again with a crowd, it's like a great party mixtape of a movie.
The automobile is the thing on January 24-25 as the double feature is Walter Hill's The Driver followed by Steven Spielberg's Duel.
Walter Hill's spare, gritty neo noir, The Driver one of my favorite crime films; a gear crunching spin of Melville's Le Samourai and a great snapshot of 70's downtown LA. I love the stripped down dialogue, the lack of character names, the terse cat and mouse games and brutal bursts of violence.
Equally spare, Steven Spielberg's debut feature film Duel is as great a sign of things to come as one could wish for. Not many first time directors could pull off something this effective and thrilling on such a low budget and short schedule. Not many directors have the word 'masterful' thrown around for their debut. Spielberg did. Film students take note, this is how you do it.
Things get a little frantic and romantic on January 26-27 as Wright has chosen David Lynch's Wild at Heart followed by Tony Scott's True Romance.
Two lovers on the lam movies, two stone cold cult classics. Both equally beloved, both wildly entertaining, both frequently brutal and brutally funny. David Lynch's amazing Wild At Heart was released at the height of his network TV success with Twin Peaks, but does not pull any punches whatsoever. I vividly remember watching this on first release and being blown back into my seat by the outrageous opening; the combination of Im Abendrot, Powermad and a man's head being bashed into a pulp was like nothing I'd ever seen. It remains a singular experience over twenty years later.
And here's what he had to say about True Romance.
Tony Scott's True Romance also felt somewhat ahead of its time and though not a huge box office bonanza, has become one of the most influential Quentin Tarantino scripts. The film foretells the age of the geek hero by at least ten years and sparked a fire for an entire genre of meta madness, my films included. Given that he didn't direct it, it's ironic that it feels like Tarantino's most personal film. Its still a joy to watch, still apparently Tony Scott's favorite film of his own and my god, what a cast.
The gang's all there on January 28 and 29 with a double feature of The Wanderers and The Warriors.
1979 was a clearly a banner year for gang culture, as these two movies are the best of the genre. I showed these movies as a double bill in Toronto and they complemented each other beautifully. One is hugely underrated, the other is a cult phenomenon, both are amazing movies.Phil Kaufman's The Wanderers is a bruising, funny knuckleduster of a movie, a rites of passage set among the warfare and initiations of 60's New York's neighbourhood gangs. There's so much from this film that has stayed with me, Perry's haymaker punches, the fog bound streets where the Ducky Boys lurk, Ken Wahl belting out Dion, the apocalyptic football game. I love this movie.
Like we said, and The Warriors.
Walter Hill's The Warriors is rightly celebrated as a cult phenomenon beyond even its origins as a movie; dialogue, sounds and images have entered into the consciousness in music, fashion and videogames. At the heart is still a barnstorming late night rumble of a film, another classic all-in-one-night tale as our heroes perform a lethal A to B in the dark terrain of a New York long forgotten.
Finally, on January 30-31, The Wright Stuff II ends with a couple of movies about guys who love the wrong stuff. The little known crime films Thunderbolt and Lightfoot with Clint Eastwood and Miami Blues with Alec Baldwin.
Two fantastic crime films, both with legendary, beloved actors, neither of which as are well known as they should be. I aim to change this with this double bill. Michael Cimino's Thunderbolt & Lightfoot is a buddy movie classic, with the amazing combination of Clint Eastwood in his prime and Jeff Bridges in one his earliest starring roles. This handsome duo head up a tough, funny and frequently insane heist movie. I dearly love this movie. With Bridges now attaining the same legend status as Clint himself, it will be great to watch this again with a crowd.
Finally, Miami Blues.
George Armitage's Miami Blues is another film slightly ahead of its time. In 1990 its combination of tough, funny noir and flashes of shocking violence seemed to bemuse audiences. Only five years later would Tarantino turn what was once for cult appreciation only into a global smasheroo. This very entertaining Miami lowlife romp has at its heart two great badass performances, the grizzled Fred Ward as Hoke Mosely and the frequently shirtless and impressively hairy Alec Baldwin as the charming psychopath Junior. This film is a little gem of broken fingers, lost digits and missing teeth. Anyone who has seen my amateur film Dead Right will know that I stole a joke from Miami Blues. I am willing to be shamed by screening it now.
Wright will be on hand at least one night for each of these double features to answer questions, do introductions, and just be a film loving bad ass in general. He claims to have never seen many of these films on the big screen so, if you are in town, you should probably join him. I'm sure plenty of familiar faces will be there.
Tickets will go on sale later this week according to the New Beverly Twitter feed, so follow there or keep an eye on the New Beverly official site. Also there, you can see what times the films are playing and what dates Wright will specifically be in attendance.
Which of these pairings is your favorite and are there any that are truly can't miss?