Sam Jackson, Luke Wilson And Leslie Bibb Join 'Meeting Evil'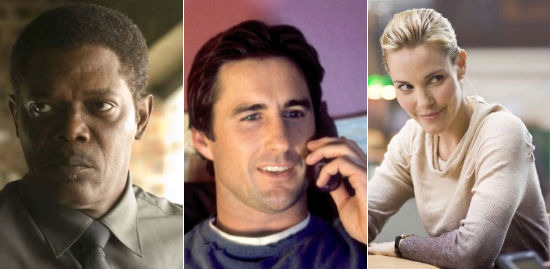 We may receive a commission on purchases made from links.
Luke Wilson is set to return to the criminal ways that made him a star. We first got to know Wilson, as well as his brother Owen, as wannabe criminals in Wes Anderson's Bottle Rocket and now Luke's about to team up against the law again. He'll star in Meeting Evil alongside Samuel L. Jackson and Leslie Bibb, which sounds kind of like Falling Down meets Breaking Bad. Directed by Chris Fisher (S. Darko) based on a 1992 novel by Thomas Berger, Wilson plays a recently fired real estate agent who teams up with a stranger (Jackson) on a crime spree that reveals his dark side. Bibb plays Wilson's wife. Read more about it after the break.Meeting Evil is scheduled to start filming January 8 in New Orleans and is being produced by the Motion Picture Corporation of America, according to The Wrap.
Here's the Library Journal description of the book from its Amazon page. There is also a more detailed description on that page that's kind of spoilerish, so feel free to go there if you'd like to read it.
Answering his door one morning, solidly middle-class John Felton finds a scruffy-looking man whose car is in need of a push. Responding helpfully despite his misgivings, John sets in motion a nightmarish series of events in which he becomes the unwitting accomplice of Richie Maranville, a psychotic criminal just released from a mental hospital. During their day-long crime spree, the two develop a curiously symbiotic relationship, with John ultimately discovering the dark, irrational side of himself he has long denied. While almost coming to believe Richie's assertion that they are psychic brothers, he makes a decision in the novel's final scene that lifts him forever above the "moral triviality" of his alter ego. This is a precisely rendered, excruciatingly suspenseful tale of psychological duality.
Wilson, who will be playing John, has proved that he's a great straight man, even a great depressed straight man, in films like Old School and The Royal Tenenbaums while Jackson, as Richie, can obviously do anything.
To me, the wild card is director Chris Fisher. The primarily television director, who has worked on Hawaii Five-O, Chuck, Eureka and a whole lot of Cold Case, is best known in the feature world for the universally panned, unsanctioned sequel to Donnie Darko, S. Darko, which is holding a sweet 0% on Rotten Tomatoes. Meeting Evil seems like the type of twisty, psychological thriller that needs a subtle hand and Fisher has yet to demonstrate that. However, maybe this is the breakout film he's been waiting for.
Has anyone read Meeting Evil? What do you think of the casting?