David Fincher Talks '20,000 Leagues Under The Sea,' 'Rendezvous With Rama' And More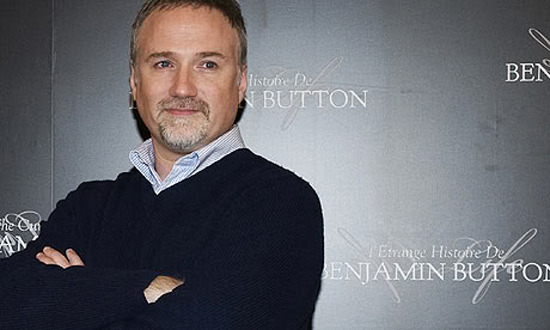 David Fincher is doing a little work promoting the DVD release of The Social Network, and he sat down for an hour-long interview with Collider. There is some very detailed technical talk about the daily work of using multiple takes to build a scene — great stuff for the hardcore film nerds — and then mentions of future projects like 20,000 Leagues Under the Sea, the long-in-development Rendezvous With Rama and The Girl With the Dragon Tattoo.
The director doesn't say much about his Jules Verne adaptation, but does say,
20,000 Leagues will be 3D.
Frosty doesn't follow up much with that, other than asking if that'll be his next film, eliciting this answer: "I think that there's a lot of movies that could be my next film." But there is a meaty quote about Rendezvous With Rama, the adaptation of Arthur C. Clarke's novel about an encounter with a large alien spacecraft to which Fincher has long been attached:
It's a question of things lining up, I mean, you know Rendezvous With Rama is a great story that has an amazing role for Morgan Freeman who is an amazing actor and would be amazing in this thing. The question was can we get a script that's worthy of Morgan and can we get a script that is worthy of Arthur Clark and can we do all of that in an envelope that will allow the movie to take the kinds of chances that it wants to take. 'Cuz we want to make a movie where kids go out of the theatre and instead of buying an action figure they buy a telescope. That was the hope... So there have been people that have been interested in this idea and we have never been able to get a script. So the answer is, you know, is the story good enough, is the script the best telling of the story, is there an undeniable person to hang it on, is it technologically feasible. All those things come into play.
And then there's some talk about The Girl With the Dragon Tattoo,
Dragon Tattoo came along and I was like "Awww f*** man you cannot make another serial killer movie...you've got to f***ing stop this." And it wasn't really even...it was Michael Lynton and Amy Pascal and Scott Rudin to an extent but mostly from the studio side that they were committed to this idea that there could be...that there was a hope that you could do a franchise movie for adults. And I thought "f*** man, I've been working my ass off for twenty years, hoping that somebody would say something like this." And I just thought, you get an opportunity to hopefully pave the way for something like that to happen...you know, that would be a great thing.
Beyond this info on new projects, there's a lot of great material in the Collider interview. Fincher talks extensively about his practice of shooting dozens of takes, and discusses his method for assembling a scene out of the material. His technique is nothing revelatory, but it's great to get it in detail from the man himself.
The nuts and bolts I'll let you check out at Collider, but I'll leave off with two quotes, which sum up Fincher's ideology with respect to building a scene:
If I'm going to make people do it that many times, they got to know that if they give me something great, it's going to be there. To me, the idea is to free people up. I want the mistakes. I want the thing that they do when they are caught not thinking about what they're supposed to be doing.
I'll always trade helicopter shots, steadicams, and that stuff in order to have the time to let somebody fail upward. To let somebody... they know what they're doing, they've figured out who their character is. They're coming from a solid place of contributing, and now you want to get them to a point where they are no longer thinking about, "Which hand is it? I didn't pick up the thing..." It's like, you do something 16 times, you can do it in your f***ing sleep. Now, once you can do it in your sleep, now let's get the words to come out of your mouth like it's the first time you said it and you always talk like this. That's what we were doing.