Rumor: Javier Bardem And Viggo Mortensen Are Frontrunners For 'The Dark Tower'?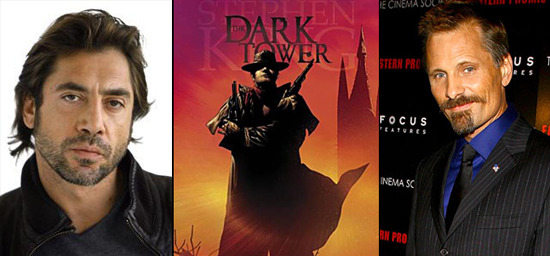 It's probably the slowest week of the year and one of the more difficult times when it comes to verifying thinly-reported info. Just two weeks ago the LA Times talked to Ron Howard on the subject of his upcoming adaptation of Stephen King's massive series The Dark Tower. The project is in the early stages, with Akiva Goldsman scripting, but casting supposition is already in full swing. At the time of that interview Ron Howard
that Viggo Mortensen, an oft-mentioned fan choice, is a reasonable name to discuss.
Now the
has reported that Javier Bardem is the first choice for the central role of the gunslinger Roland, with Viggo Mortensen as a backup choice.
What's the source for the info? 'Sources.' In other words, while discussions may be going on and wishlists are in play, don't get set on seeing either of these guys in the role just yet.
And what a difficult casting job this will be — it will take into account three feature films and a TV series, which means this is one hell of a commitment. Who's going to sign on to that without seeing a full script, even if the creators are some of the more powerful guys in Hollywood? That commitment also makes me wonder about the viability of Viggo Mortensen as a choice. He obviously devotes himself to his craft, and so after doing the massive Lord of the Rings series, would he be ready to commit another hefty chunk of time to The Dark Tower?