/Filmcast Ep. 129 - True Grit And Black Swan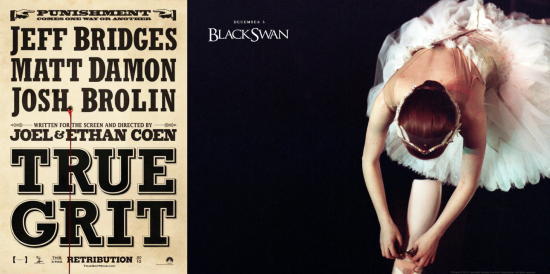 This week, David Chen, Devindra Hardawar and Adam Quigley deliver their thoughts on two of this year's most critically acclaimed films, debate whether or not the Coens have ever done a "straight genre exercise" before, plus offer a crazy theory about the real meaning of Black Swan and speculate on where Aronofsky's career might be headed next. Thanks to all our listeners, sponsors, donors, and subscribers for an exciting 2010! Check back in a few days for our Top 10 Movies of 2010 in this week's /Filmcast: After Dark.
You can always e-mail us at slashfilmcast(AT)gmail(DOT)com, or call and leave a voicemail at 781-583-1993. We are off until January 9th. Join us then at Slashfilm's live page at 10 PM EST / 7 PM PST, where we'll be reviewing Exit Through the Gift Shop.
Download or Play Now in your Browser:
Subscribe to the /Filmcast:
Shownotes
Featured Reviews
Credits
Contact us at our voicemail number: 781-583-1993
You can donate and support the /Filmcast by going to www.slashfilmcast.com and clicking on the left-hand side "Donate" links! Thanks to all our donors this week!