Sundance 2011 First Look: 'Margin Call'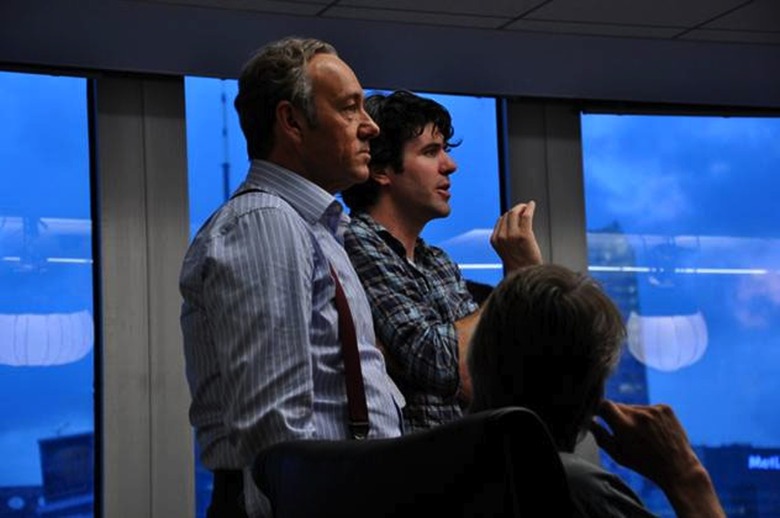 One of the top 10 screenplays listed on The Black List this year was a script by JC Chandor titled Margin Call.
While I often refer to The Black List as a annual list of the best unproduced screenplays in Hollywood, that isn't actually the case — the list is compiled with a poll of 300 development executives and high-level assistants, and contains a ranking of the hot screenplays making the rounds in Hollywoodland, which were written in, or are somehow uniquely associated with, 2010 and will not be released in theaters during this calendar year. Basically, the black list contains the hottest projects in Hollywood that you haven't heard of yet. Some of the screenplays have been acquired and some are even in production. Margin Call was actually in the can before the list was even released.
"Based on true events," the film chronicles the final twenty-four hours of Lehman Brothers. The movie is set to premiere at the 2011 Sundance Film Festival with Chandor at the helm and starring Kevin Spacey, Paul Bettany, Jeremy Irons, Stanley Tucci, and Demi Moore. I always love dramatic thrillers set in an isolated amount of time or one location, and this film seems to fit both categories. Check out the first photos from the movie after the jump.
Here is the official description from Sundance:
Set in the high-stakes world of the financial industry, Margin Call is a thriller entangling the key players at an investment firm during one perilous 24-hour period in the early stages of the 2008 financial crisis. When entry-level analyst Peter Sullivan (Zachary Quinto) unlocks information that could prove to be the downfall of the firm, a roller-coaster ride ensues as decisions both financial and moral catapult the lives of all involved to the brink of disaster. Expanding the parameters of genre, Margin Call is a riveting examination of the human components of a subject too often relegated to partisan issues of black and white.
Propelled by a stellar cast that includes Kevin Spacey, Paul Bettany, Jeremy Irons, Stanley Tucci, and Demi Moore, writer/director JC Chandor's enthralling first feature is a stark and bravely authentic portrayal of the financial industry and its denizens as they confront the decisions that shape our global future.
Photos:
Margin Call is set to hit theaters on April 15th 2011.