'Spider-Man: Turn Off The Dark' Loses A Lead Actress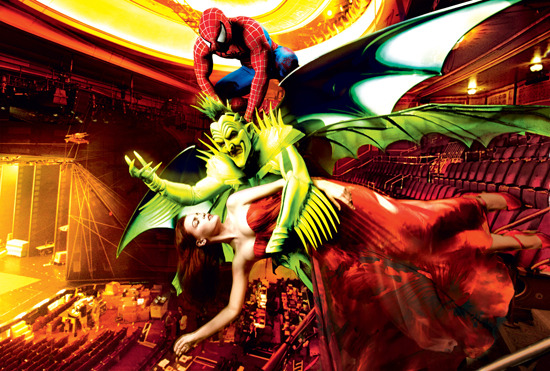 I hope someone is building an appropriately detailed scorecard for Julie Taymor's Spider-Man: Turn Off the Dark, aka the Most Expensive Broadway Production Ever. The show has been delayed, rewritten, gone over budget, and seen far more than the usual share of injuries. Now, the most recent injury, which was endured mid-performance by Christopher Tierney, may be a factor in the departure of Natalie Mendoza, who was also injured during a performance.
Ms. Mendoza played Arachne, the new villainess created for the show by Julie Taymor, and for the last couple weeks has worked through the aftereffects of a concussion caused by an accident in the show's first preview performance. Her last performance was on December 20, and she will likely be replaced by understudy America Olivo. Perhaps not coincidentally, December 20 was the same day that a line holding Christopher Tierney broke, causing the actor to fall and suffer "a hairline fracture in his skull, a broken scapula, a broken bone close to his elbow, four broken ribs, a bruised lung and three fractured vertebrae." [NYT]
If you missed it in the week before Christmas, hit the jump to see the great Taiwanese TV recreation of the disasters befalling Broadway's Spider-Man.
There's nothing funny about actors being injured for a production as frivolous as this one, but this bit of animation captures the WTF factor of the whole scenario surrounding the show.