Bryan Singer To Shoot 'Jack The Giant Killer' In The Dark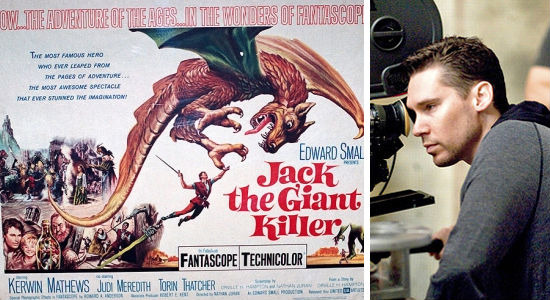 Most people who go to the movies take it for granted, but light is as important a facet of cinema as the budget or the script. Without light, your movie couldn't be projected up onto the big screen. And without light on set, the cameras wouldn't be able to recognize the image in front of them. Or would they?
Bryan Singer popped online recently to write a little bit about his upcoming film Jack The Giant Killer. He said he's going to shoot it in 3D using EPIC Red cameras and that, because he's using that camera and the film is set before electricity, he can "more effectively explore the use of natural light." Is Singer making his Barry Lyndon? Read more after the jump.Bleeding Cool unearthed this quote from Singer. Here's exactly what he had to say.
I'm very much looking forward to using the EPIC Red for my next movie Jack the Giant Killer which will be shot in, what else, 3D. The camera's incredibly compact size and extraordinary resolution are ideal for the 3D format.
But more importantly Jack the Giant Killer is my first movie set in a time before electricity. The EPIC's extraordinary exposure latitude will allow me to more effectively explore the use of natural light.
Jack the Giant Killer has been touted as "an adult look at the Jack and the Beanstalk legend" about a princess being kidnapped and how that threatens a long-standing peace between men and giants when a young farmer sets off on a quest to save her. It was originally written by Darren Lemke, with rewrites by Mark Bomback and eventually Christopher McQuarrie, who won an Oscar working with Singer on The Usual Suspects.
Being as it's in the fantasy genre, one could easily assume Jack the Giant Killer could share a visual palate with either The Lord of the Rings or The Princess Bride. However, if Singer is going to shoot scenes using natural light, like Kubrick most-famously did with Barry Lyndon, the period piece will probably have a much less fantastic, much more realistic tone and look going for it. How that will play in 3D still remains to be seen.
What also remains to be seen is who will actually star in this thing. The latest rumors were that Aaron Johnson (Kick-Ass) was at the top of the list, but also that Singer had a short list beyond him too. Shooting was also rumored to start in February 2011 so, hopefully, there will be more news soon.
How do you think Singer's choice of camera and cinematography style will effect Jack The Giant Killer?