New Photos: Anne Hathaway In 'One Day' & Mia Wasikowska In 'Jane Eyre'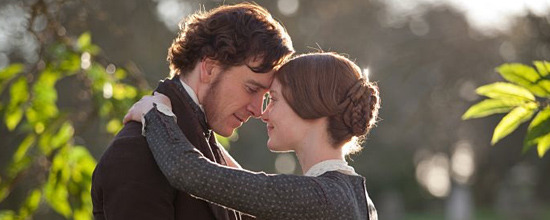 Focus Features has dropped new images from two of the company's more promising 2011 films: Lone Scherfig's One Day and Cary Fukunaga's Jane Eyre.
That's the new Jane Eyre image, above, showing Mia Wasikowska and Michael Fassbender as the lead characters of Charlotte Brontë's famous novel. We've seen one trailer already (and it was pretty wonderful, check it if you missed that post) but this image is notable for showing the characters in a serene, even tender moment.
Get more info on Jane Eyre and see the images from One Day, after the break.
Here's the synopsis for Jane Eyre, which also stars  Jamie Bell, Judi Dench, Sally Hawkins, Imogen Poots, Holliday Grainger and Tamsin Merchant. Loved Mr. Fukunaga's last film, Sin Nombre, quite a lot, so I'm very much looking forward to this one. It opens on March 11 2011.
In the story, Jane Eyre flees Thornfield House, the vast and isolated estate where she works as a governess for Adele, a child under the custody of Thornfield's brooding master, Edward Rochester. As Jane looks back upon the tumultuous events that led to her escape, from her childhood as an orphan to her education at the cruel charity school to which she was consigned, she realizes that she must return to Thornfield – to secure her own future, and to come to terms with the terrible secret Rochester had hoped to hide from her forever...
And then there's One Day, from An Education director Lone Sherfig. Here are two images.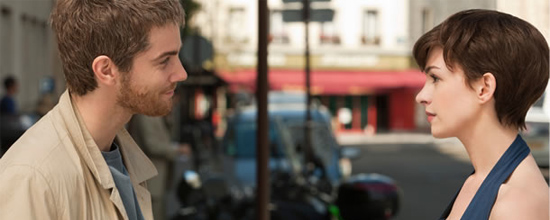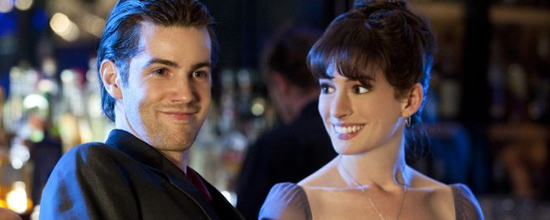 The film, which opens some time in the third quarter of 2011, is based on the book by David Nicholls and follows a couple — rich guy and working class girl — who meet every July 15th for twenty years after their first one-night stand during university. Anne Hathaway and Jim Sturgess star as the couple; Rafe Spall, Romola Garai and Patricia Clarkson also appear.
Here's the official synopsis:
One Day charts an extraordinary relationship. Emma (Hathaway) and Dexter (Sturgess) meet on the night of their college graduation – July 15th, 1988. She is a working-class girl of principle and ambition who dreams of making the world a better place. He is a wealthy charmer who dreams that the world will be his playground.
For the next two decades, every July 15th reveals to us how "Em" and "Dex" are faring, as their friendship ebbs and flows with the passing of the years. Through laughter and romance, heartbreak and exhilaration, they experience the grandeur of life. Somewhere along their journey, these two people realize that what they are searching and hoping for has been there for them all along.