Sony Buys Rights To Remake Austrian-German Heist Film 'The Robber'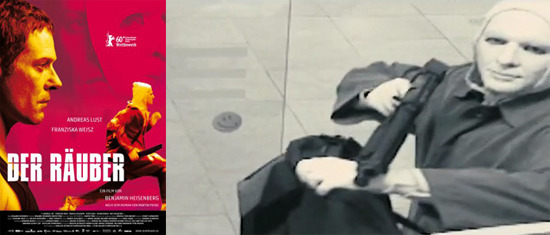 The Robber, from Austrian director Benjamin Heisenberg, hasn't had time to establish a presence in the States — it just opened in Germany in March after a premiere at the Berlin Film Festival. A few local festival appearances, like ones at the Seattle and New York Film Festivals, is all the release the movie has had here. But Sony has picked up rights to remake the film anyway, so we could soon see a domestic version of the tale about marathon runner Johann Rettenberger, who had a habit of robbing banks in between marathons.Variety says that Laura Ziskin will produce, and that a director hasn't been announced. The fim is based on Martin Prinz's book Der Rauber, which was published in English as On the Run.
Here's the recap of the book from UK publisher Dedalus:
In the 1980s the bank-robber Johann Rettenberger was the most wanted criminal in Austria. Known as Pumpgun Ronnie because of the weapon he used and the Ronald Reagan mask he wore for his robberies, he sometimes robbed two or three banks on the same day. He was also wanted for one murder, unconnected with the bank robberies. Unusually for a bank-robber, he was also a keen amateur marathon runner and had won several races. He jumped out of a window during questioning and escaped by running into the Vienna Woods. It took four days and the biggest police operation in Austrian history before he was cornered and shot himself. On the Run is not an attempt to analyse or explain, much less excuse Rettenberger, nor is it a biographical novel recreating the details of his life in chronological order. It is a novel about a man for whom running is of existential importance. He only seems to feel truly alive, truly himself, truly free when he is running. Although it does have the forward drive of the excitement of the chase, from the perspective of the quarry, it is more of an Austrian The Loneliness of the Long Distance Runner than a thriller.
And here's the trailer for the original film: