First Look: Steve Carell And Ryan Gosling In 'Crazy, Stupid, Love;' Jonah Hill In David Gordon Green's 'The Sitter'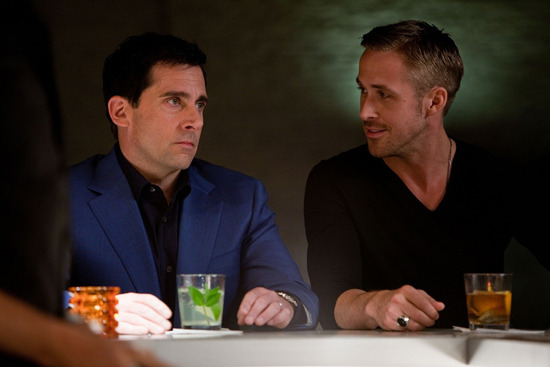 Ok, I know, this isn't the most exciting image post ever. In fact, as things go, the images are pretty dull. But take this as a reminder that these two films exist (or will exist) and move forward with the hope that there will be much more stimulating stuff to be seen from each one.
First up is Crazy, Stupid Love, the oft-retitled film from directors Glenn Ficarra and John Requa (I Love You, Phillip Morris, writers of Bad Santa) and writer Dan Fogelman (Tangled). It features Steve Carell, Ryan Gosling, Emma Stone, Kevin Bacon and Julianne Moore in a story about a father (Carell) who is dealing with a marital crisis and his troubled relationship with his kids. Julianne Moore plays Carell's wife, Kevin Bacon is the guy she's dallying with. The film is set for July 29, 2011. [BleedingCool]
After the break, a peek at how Jonah Hill will look in David Gordon Green's The Sitter, which is now filming. Hint: he looks like Jonah Hill.
David Gordon Green is one busy guy. He just finished Your Highness, and is already shooting The Sitter, in which Jonah Hill plays a reluctant babysitter who takes a crazy jaunt through New York while watching the kids next door (Max Records, Kevin Hernandez and Landry Bender). Ari Graynor plays his girlfriend who instigates the craziness, and J.B. Smoove and Sam Rockwell are the drug dealers on Jonah Hill's trail.
If that last note didn't get you interested, I'm not sure what could. Sure, I'd rather see set photos of Smoove and Rockwell, too, but for now we'll take this. Put The Sitter on your calendar, as it should open on July 15, 2011. (Yep, just a couple months after the April opening of Your Highness. Two David Gordon Green films in 2011!) [Rants Thoughts & Merde, via The Playlist]