/Filmcast Ep. 128 - TRON: Legacy (GUEST: Annalee Newitz From Io9)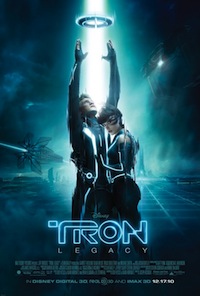 This week, David Chen, Devindra Hardawar and Adam Quigley reflect on Jon Favreau's decision not to direct the next Iron Man, wonder how much The Tree of Life has in common with The Fountain, and ponder the unnecessaryness of sequels for Shakespeare in Love, Bad Santa, and Rounders. Special guest Annalee Newitz joins us from io9.
You can always e-mail us at slashfilmcast(AT)gmail(DOT)com, or call and leave a voicemail at 781-583-1993. Join us for our next live broadcast on Sunday, December 26 at Slashfilm's live page at 10 PM EST / 7 PM PST, where we'll be reviewing Black Swan and True Grit.
Download or Play Now in your Browser:
Shownotes
Introduction
What We've Been Watching
Devindra (01:30): Alien Quadrilogy Bluray
David Chen (04:50): I Love You Phillip Morris
News Discussion
Featured Review
(26:18) Tron: Legacy
Annalee Newitz from io9 joins us!
Credits
A big thanks to our sponsors, Audible and The Warner Movie Archive. Visit http://www.warnerarchive.com and use the promotional code SLASHFILM to get $5 off any Warner Archive purchase! You can also get a free audio book by going to audiblepodcast.com/filmcast.
Our music comes from Point 22 courtesy of the Podsafe Network, and Brad Sucks
If you'd like advertise with us or sponsor us, please e-mail slashfilmcast@gmail.com.
Contact us at our voicemail number: 781-583-1993
You can donate and support the /Filmcast by going to www.slashfilmcast.com and clicking on the left-hand side "Donate" links! Thanks to all our donors this week!