Banksy Swears 'Exit Through The Gift Shop' Is 100% True; Hints At Another Film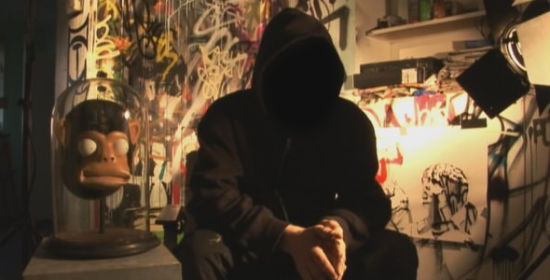 Watching Exit Through the Gift Shop elicits an almost Kübler-Ross reaction from its audience. After the film's release, Banksy did very little – if any – press about it. In a new interview, though, he states the film is 100% truthful, talks about documentary filmmakers as being "punk" and hints at another movie in his future. Read all about it after the jump.
Note: This article contains possible spoilers for Exit Through The Gift Shop.
In my estimation, there are four stages to the process of watching the film. The first is Interest. You're watching a film about street art, something most of us know little about. The second is Envy. Not only does the film's main subject, Thierry Guetta, get to live in this world but he gets to meet Banksy, the eventual director, who just happens to be the most illusive and famous man in this niche of art. The third is Amazement. When the film flips on its head and everything you've learned comes into question, you'll be blown away. And the final stage is Disbelief. After finishing the film and knowing a little about it, you second guess whether or not Banksy has pulled a fast one on us. Is Thierry Guetta, aka Mr. Brainwash, for real? Or is he just the latest piece of art created by Banksy?
In an e-mail interview with All These Wonderful Things (Thanks to The Film Stage for the heads up) Banksy not only discussed the legitimacy of the film, but film as an art form and the reception of the movie.
Here's what he had to say about the film's truthfulness.
Obviously the story is bizarre, that's why I made a film about it, but I'm still shocked by the level of skepticism. I guess I have to accept that people think I'm full of s***. But I'm not clever enough to have invented Mr. Brainwash, even the most casual on-line research confirms that.
Ordinarily I wouldn't mind if people believe me or not, but the film's power comes from the fact it's all 100% true. This is from the frontline, this is watching an art form self-combust in front of you. Told by the people involved. In real time. This is a very real film about what it means to 'keep it real'.
Besides, if the movie was a carefully scripted prank you can be sure I would've given myself some better lines. I would've meticulously planned my spontaneous off-the-cuff remarks. I love that famous Jack Benny come-back to a heckler – "You wouldn't say that if my writers were here." But I've always wondered – did his writers tell him to say that?
Banksy has actually never seen the film with an audience, but he did see the trailer with an audience.
Unfortunately I haven't seen it with an audience. The nearest I got was going to the cinema to see 'Precious'. They played my trailer beforehand and someone two rows in front shouted  'OH MY GOD, BANKSY IS SUCH A SELL-OUT' and I shrank into my seat.
He also is a huge fan of the documentary genre as a whole.
I'm from a generation for whom documentary isn't a dirty word. It doesn't have to mean endless shots of penguins set to classical music. Michael Moore and Morgan Spurlock seemed completely punk to me. And the most punk thing of all was they brought their story undiluted to the multiplex.
Documentaries have an important role in recording culture that's unlikely to make it into the history books. DOGTOWN AND Z-BOYS was the Bill of Rights for skate culture. Having said that, my film was never going to be an authoritative history of street art. Or even an authoritative history of the selling-out of street art. We realized halfway through the edit that the ending needed to be as unresolved as possible. I've learnt from experience that a painting isn't finished when you put down your brush – that's when it starts. The public reaction is what supplies meaning and value. Art comes alive in the arguments you have about it. If we've done our job properly with EXIT, then the best part of the entire movie is the conversation in the car park afterwards.
Finally Banksy talked film as a medium and whether or not he'd like to make another movie.
The art I make is similar to film – my paintings are essentially freeze frames from movies that are playing in my head. I think its pretty clear that film is the pre-eminent art form of our age. If Michaelangelo or Leonardo Da Vinci were alive today they'd be making Avatar, not painting a chapel. Film is incredibly democratic and accessible, it's probably the best option if you actually want to change the world, not just re-decorate it.
Banksy is certainly the kind of artist who prides himself on trying "to change the world, not just re-decorate it" so maybe he's going to get back into film soon.
There's more to the interview, such as his thoughts on how his anonymity helped or hurt the film, so definitely head to All These Wonderful Things and check it out.
Exit Through The Gift Shop is probably going to end up being my favorite movie of the year and I've never felt that it was fake. There was just too much going on. Too much footage collected over too long a period of time. Plus, Mr. Brainwash is an artist whose work I'd seen without knowing it before the film. If it was a ruse, it was a ruse a decade in the making.
Do you think Banksy is telling the truth or is he "full of s***?"