Cool Stuff: Aaron Horkey's 'True Grit' Poster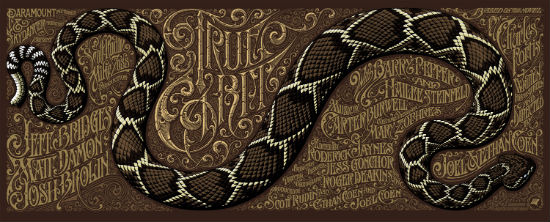 True Grit, the latest film by The Coen Brothers, hits theaters tomorrow and to celebrate the release, Mondo is dropping a brand new print. This eye-catching True Grit poster by Aaron Horkey measures a huge 39 x 15 inches and incorporates not only all the credits, but the all important rattlesnake too. There's the regular gold print, which is limited to only 400 copies and costs $60, and then the silver variant, which is limited to 110 and costs $120. They'll go on sale at some point Wednesday December 22. Follow @MondoNews on Twitter for the announcement. After the jump, check out the high resolution versions of each print.
As a poster collector myself, I just feel it's my duty to let you all know that 39 x 15 is not a regular size and you'll probably have to get it custom framed. So, factor that into your purchasing.
Click on the below images to download the high-res versions.
If you've seen True Grit, how do you think these posters do to sell the movie?